Jags "Fall Back" an End to Daylight Savings
   Jags it is time to set your clocks back! Daylight Saving Time has officially ended on the seventh of November Sunday at 2:00 am. The time when clocks are set to "fall back" an hour, providing us with more sunlight in the dark autumn and winter mornings.
   The end of daylight saving time signifies that the months of Spring and Summer have passed and that it is time for Fall and Winter. With daylight saving time finally ended and the season of winter almost here, students can start to "Fall" back and relax a bit as we have all gained an extra hour of time. 
   The following is an explanation of what daylight saving time is exactly. Also, answering the following questions on how students feel about these new time changes? and how it will affect them mentally and physically over the course of the school year? 
   Daylight Saving Time, also known as DST, can be defined as the process of advancing clocks by one hour from Standard Time during the summer months and returning them to Standard Time in the fall (The Almanac). The idea for DST originated from Benjamin Franklin. This year, daylight saving time begins on the second Sunday of March and ends on the first Sunday of November. Typically, when daylight savings time begins clocks are set one hour forward to where you would lose one hour "springing forward". Then, when daylight saving time ends clocks are set back one hour hence the expression "fall back".
   Daylight Saving Time has been studied and found to have a variety of effects, some positive and negative relating to sleep loss. Also, how it can affect a person's mental and physical health. For example, one of the primary benefits of DST is a reduction in crime and road accidents. On the contrary to popular belief the changing of the clocks from Daylight Savings Time for some can result in heart attacks, depression, and decreased productivity. 
   As to how Charter Jags are adjusting to the time change and what feels to be earlier nights, senior Jaden Calviero stated, "I adapted to daylight savings pretty quickly, this year was an easier switch than other years. I liked the day of an extra hour of sleep. I like that the sun sets at 5 o'clock instead of 7 o'clock. I personally like the light at 7 o'clock instead of the dark night by 5 o'clock." Similarly, Sophia Torchia shared her thoughts on daylight saving time, saying, "The ending of daylight savings time will be an easier transition because we got an extra hour of sleep that first day. I like how when I wake up in the morning, it's bright outside. It helps me feel less tired, so I believe mentally and physically it is rejuvenating." While many students like Calviero and Torchia have adjusted rather quickly to this new time change, most students are not as keen with the idea that the day feels shorter.
   While the end of daylight saving time gives students an extra hour of time, it comes at a cost: it gets dark much earlier than it did previously. For instance, Junior Angelina Godinez expresses, "I have mixed feelings on daylight savings. I like how it is sunny when we go to school because it actually feels like the morning. But, I don't like how at night it gets dark really early. Especially, since I am more of a morning person." There are many different points of view on whether or not the end of daylight saving time is more helpful or harmful, but it often depends on whether or not the person prefers earlier nights or earlier mornings.
  Freshman Leah Miragliotta expresses, "I have some conflicting opinions about daylight savings time ending. I don't really like it because the day feels as if it's too short because it gets dark earlier and I can't really do that many outside activities. So I have to get things done faster and the day is over sooner. However, I also like it in the morning because it's light out and doesn't feel like the day hasn't ended from the day before. A part that I like about this new time change is driving in the day time when it's really early instead of night. If I had to choose if I liked it better when daylight saving time started where it would get darker later because it makes the day seem longer and that I can get more things done." 
   All in all, most Jaguars tend to have contrasting outlooks when asked about the change in daylight savings time. Daylight savings time can mean many different things to different jags, however one thing for certain is that regardless of DST it is critical to use the amount of hours you have in the day wisely and not let this extra hour go to waste.
Leave a Comment
About the Contributor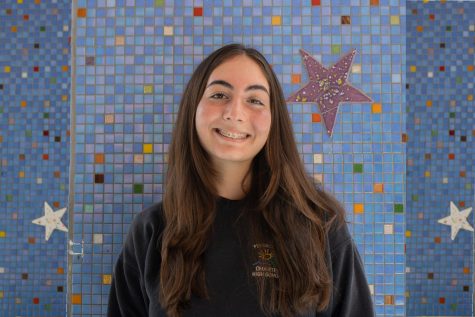 Samantha Miragliotta, Co-Managing Editor





Hello! My name is Samantha Miragliotta, and I am in 12th grade. This is my fourth year as a member of the CHAT. Currently, I am the Co-Mangaing...