Netflix's Ginny and Georgia Review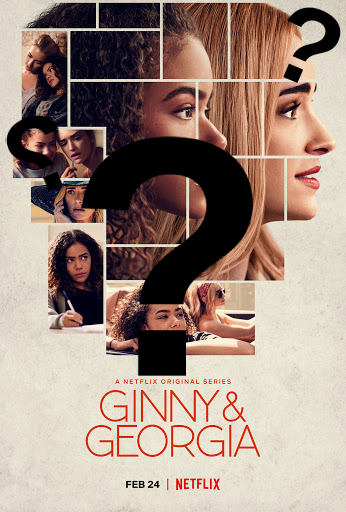 What happens when your heart belongs to someone else but you're dating another person? This is what Ginny Miller deals with in the show Ginny & Georgia.
   Ginny & Georgia is a mother daughter show that involves crimes, abuse, lying, family problems, and friend drama. Georgia and her two kids, Ginny and Austin, embark on a new chapter in their lives, after experiencing the loss of her husband and their stepfather. They move from Texas to Wellsbury, Massachusetts.
   Ginny, a fifteen year old, has felt that she doesn't belong. As a teen, she moved around a lot so she wasn't able to make friends and have them by her side. However, in Wellsbury, she becomes friends with Maxine, Abby, and Norah, and together they are called MANG. 
   This show portrays many struggles teenagers go through. Abby is a character that deals with divorced parents and body image issues. Ginny deals with self-harm and family problems. Although they are pretty close, they don't mention the things they are going through to each other. 
   Ginny and Maxine both experience what it is like to have their first love. Maxine thought that she was unlovable until she met Sophie. Ginny on the other hand, first met Marcus then Hunter, yet Hunter and Ginny ended up dating. While dating Hunter, Marcus secretly meets up with Ginny in her room, and Ginny tells Marcus things she has been going through. This causes a problem, as Maxine, her best friend, does not know that they are meeting together behind her back.
   Georgia Miller has a checkered past. She experienced abuse from her stepfather, got pregnant at fifteen, started an illegal gambling ring while at the hotel, and had to fend for herself. As a mother of two, she keeps a lot of things she went through in secret as a way to protect Ginny and Austin.
   Natallie Palacin, a sophomore, says, "Georgia's story is mysterious and thrilling and it shows how easily people can change depending on who they surround themselves with." 
   As time went on, Ginny challenges her and wants her mom to open up. Georgia shares some things from her past, but Ginny still feels that she is being lied to. 
   It doesn't surprise Ginny when Mayor Paul and her mother start dating. When her father Zion comes into town, she asks him to stay as she wants him to be a part of her life. At first he tries and persuades Georgia to let him stay and they can become a family once again, but after seeing how Georgia and Mayor Paul act around each other, he decides to leave. 
   Austin is a nine year old that loves Harry Potter. When it was his turn to be the star of the week, he put together the letters he received from his dad who he says is in Azkaban. Zach, his bully, makes fun of him. Later on in the show, he stabs Zach with a pencil and the school suggests he needs a therapist. He skips school too and he decides to not talk after finding out that Georgia did not send the letters he wrote for his father. 
   After Ginny has had it with her mother, she takes Austin with her to leave town. Aden Arteaga, a sophomore, expresses "I think that Ginny and Austin are on their way to Boston to live in Zion's new apartment." This might be the case as Zion gave Ginny an address inside the book he gave her. 
   Personally, I rate this show a 7/10. Although Ginny and Hunter are cute together, I like her better with Marcus. In the episode where he tells her that his best friend passed away from cancer, I saw that he was able to be vulnerable and tell Ginny why he acts the way he acts. 
   If you like shows that involve family and friend drama, romance, and crime, give Ginny & Georgia a watch.