Best of Both Worlds: Yasir Moses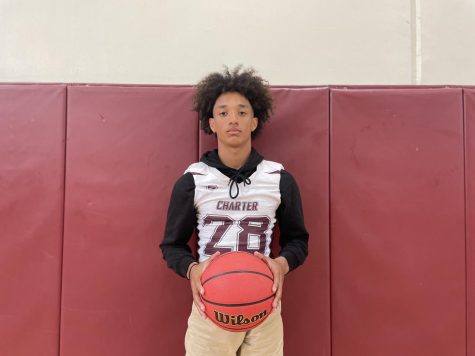 2,000 students walk among the Academic Village campus, students seeing so many familiar  faces everyday but never really knowing what happens within their lives, never knowing the hardships or experiences they are going through. Yasir Moses is one of those special students. A two-sport student athlete, who excels in the academic setting. 
   Despite playing basketball for most of his high school career, Yasir started off playing football in 4th grade, giving props to his father who was the one who introduced him to the sport. He was not initially interested in basketball until a coach saw the potential he had and that is when he transitioned into the basketball setting. 
    Yasir wanted to revive his love for the sport of football and wanted to be a part of the winning culture that coach Willis was building with the 2022 Jaguar football team. Doing this though didn't come without sacrifice. Along with juggling a full school course load with AP and Honors classes, his athletic hours are not the normal for a student athlete. When football season is in full swing, he's at school from 2:00 all the way till 8:30 at night. Football practice goes from 2:00 P.M. all the way to 5:00 P.M. and then basketball practice from 5:30 P.M. all the way to 8:30 P.M. 
   As expected, this took a toll mentally, and physically. At first it was difficult for his body to adjust to the physical exertion of playing two sports. However, he got into good habits of eating well and taking care of his body and this helped him perform in both sports. Despite his busy schedule, Yasir makes sure to take time for himself, stating that: " I mainly do it on the weekends. Saturday's and Sunday's I spend my time with my friends and family."
   When talking about how he copes with his schoolwork with his busy schedule, he praises the block schedule Charter has stating that: " I always use a big chunk of time doing my homework on block days". Yasir and the basketball team even sacrifice a portion of their lunch time to complete homework explaining how they all go to the office to make sure they complete their work. 
   Yasir praises a few people in his life for his motivation to keep going, praising his parents, star basketball player, Kobe Bryant, and Charter Alumni, Kolby King. Yasir talks about how Kolby took him under his wing last year and mentored him, stating that: "I would just take in everything he did." Even though Kolby graduated last year, this influence still has an effect on him to this day. 
   Yasir wants to pursue basketball into his college career but if that is not possible, he wants to still be a part of the game, explaining how he would want to pursue being an athletic trainer or even an agent. With his work ethic and determination, there in no doubt that Yasir won't accomplish what he sets his mind to.