Fall Recipes You've Really Autumn Try
Iris Lee, Student Life Editor
October 31, 2022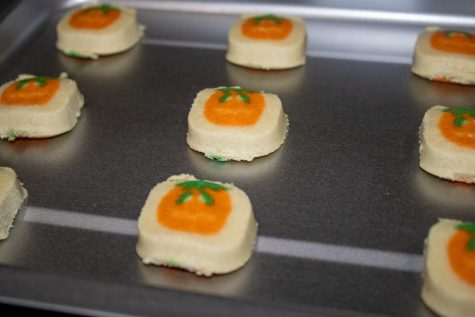 As the school year progresses, the changing of seasons marks the start of new beginnings–and with it, new cravings. Although the vibrant tastes of summer will be missed, the crisp fall breeze strings along new dishes that taste like home. From sharing meals with friends and family to indulging in treats by yourself, food has the power to bring people together. With the perfect balance of tradition and hints of personality, every recipe brings something new to the table. As PPCHS counts down the days to Halloween and Thanksgiving, here are the Jags' favorite fall dishes! 
"My favorite fall recipes are snickerdoodle cookies. I like making them because they're pretty easy to make and taste really good!" -Kristen Colom, freshman.
You can find the recipe here!
"I like making gingerbread cookies really early, because fall is kind of just early winter to me. But, I also like making cinnamon apple muffins because those feel more fall-like, and are easier to share compared to a loaf. Banana bread is also a year round thing that I like, and it's always something nice to have something that's easy to heat up and feel like home when it gets colder! Soups are something I've started to cook more– I don't really enjoy cooking them, but it's a good payoff. I eat more Chinese tasting soups like tomato egg drop soup, or something called gedatang (dough drop soup), which are very nice to eat. It's not cold yet, but it's a good dish for when it starts to get colder. It's a nice taste of Chinese food and brings nostalgia. The recipes for the soups aren't exactly the same as the ones I eat at home, since you can usually make the gedatang with any stock you have, and I come from northern China so there are different flavors." -Mia Fu, sophomore
Find the recipes below!
"[Pumpkin rolls are] my mom's favorite thing to make, and it's really good! It's kind of difficult to make, but my mom and I used to make them in batches, since we would make one for my dad, grandparents, etc. I like making it because it's something my mom and I do, and we give them away to family. My favorite part is flipping it over and putting powdered sugar on the top." -Leanne Sorensen, junior. 
You can find the recipe here!
"My favorite fall recipe is definitely cocoa brownies. They're so addicting to eat, and the best part about it is that it's really easy to make and share with family!" -Hana Bushra, junior. 
You can find the recipe here!
"I love butter chicken! It's a Pakistani dish that I make in remembrance of my grandma who used to make it, and it tastes really good. It's a family recipe, so I don't have a specific link to share, but it's a very important dish to me." -Asra Khan, senior.
"It's not really a dish, but I love Pumpkin Spice Frappuccinos! I'm a sugar addict, and pumpkin spice is the best spice. I also love Thanksgiving food, so green bean casserole is great too." -Hailee Watson, senior.
You can find the recipes below.
"I like to make cheesecake in the fall, even though I don't think it's really a fall dish. I decided to attempt baking a cheesecake during Thanksgiving break in 2019 just because I had the time, but now I do it every year. I don't usually help cook Thanksgiving food, so contributing with a cheesecake I made myself is really fun. Plus, when you make it yourself, food usually tastes better." -Chelsea Ugwuozor, senior.
Find the recipe here!
"I love making Japanese souffle pancakes. I usually add cinnamon to fit with the fall theme, and I love making it because it tastes really nice and suits the season. I started making the pancakes around 4-5 years ago during 7th grade. I don't make them often, but when I do it's pretty nice, and it reminds me of how easy middle school was. It's a little nostalgic, as it was the first dish I learned how to make." -Matthew Castillo, senior.