Donna Gephart: Writing to Experience the Unknown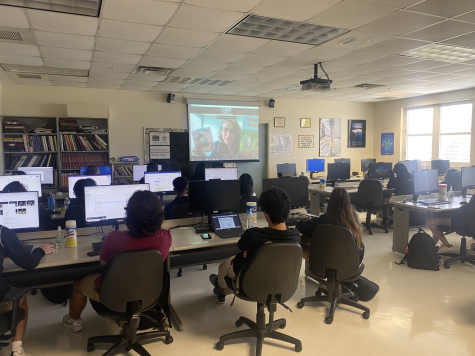 "Journalism is the most noble profession. It's such a service to humanity and I think it's a very challenging thing. It can show the truth behind things if you dig deep enough." Donna Gephart, an award-winning author with her own comeback story, entered the PPCHS newsroom via Zoom with guidance for every young journalist under her voice—including students who aspire to be authors, those who simply hope to grow in their writing, and others who aim to write as they experience. Regardless of their aspirations, Donna Gephart touched each individual in more ways than one!
   Born and raised in Philadelphia, Gephart experienced the humblest of beginnings. While struggling through underprivileged conditions, one thing that remained a constant in her life was her local library. "When I was 10 years old, I decided right then and there 'I'm going to be a writer!'," she cried, "'And that was it. I worked for the school newspaper, had an internship for a weekly newspaper in my city, and took a journalism course in college.'"
   The wave of emotions she felt as a child led to Gephart producing a wide collection of books for children in need of an escape, much like herself. Though many of her projects required plenty of revisions and resubmissions, the author was eventually able to create an identity through her writing. Her most recognized works would be produced with special memories from Gephart's childhood or held subliminal messages to help guide her readers through their own troubles. 
   As an aspiring journalist, junior Isabella Cely-Garcia expressed that Gephart brought children's fiction back to life. "Similar to Gephart, I've known that I've wanted to be a journalist for years. Though I hope to be an investigative journalist, Gephart inspired me to try different areas of the subject in order to completely grow in my writing." The author expanded on how she's lessened her struggles with different genres and formats by collaborating with other writers and researching more on the subject—and Cely hopes to do the same.
   But like any strong writer, Gephart advocated for exploring unfamiliar subjects to channel her writing. Throughout her career, Gephart's been able to investigate the American prison system and learn the different perspectives of individuals facing cancerous illness, and living as transgender youth.
   Gephart's concept of writing to experience the unknown inspired the CHAT's Copy Editor, Daniel Morrison, in the PPCHS newsroom. "Writing the unknown gives insight into specific topics briefly touched by the average writer. It's a powerful tool to expand my general knowledge about the world and seek new and unique writing strategies that help me write leisurely and for The CHAT."
  "We learned in the past several years that journalism can bring things to light in a way that nothing else can! It can hold people to account and give a voice to the person who feels voiceless, or those without enough resources." The award-winning author guided the class to follow in her footsteps all in the span of an hour. After teaching the class to see the best in all situations, widen the perspective of the story, and aim to learn more from their projects, she left the newsroom and went on to pursue her next project.