Meet Hailey and Meghan: Charter's First Homecoming Monarch and Queen Couple! 
   December 10th 2022 was a night of many firsts; this year's Homecoming brought many new elements to the table. Senior couple Hailey Cajigas and Meghan Golightly had planned to get nominated, but wanted to avoid running against each other for the Queen title. The members of Student Government Association, such as junior Dominique Balli, introduced the more gender-inclusive title, Senior Monarch. Hailey was nominated as Monarch, and hoped she could become the first in Charter history. That memorable night, Hailey and Meghan successfully became the first queer couple to be crowned together. 
Hailey, how do you feel about being the first in Charter History to run and win for the new Monarch position?
"Amazing. I feel amazing. At first, hearing the crowd, we were very nervous, because it sounded like a lot of people had voted for different candidates. When my name got called, my heart just dropped and I felt so happy."
Meghan, how do you feel? 
"It's crazy. It's so cool that we're the first gay couple to have won, but I'm super proud of Hailey because she's the FIRST monarch."
"
I hope in the future more queer people will feel safe enough to run themselves.
— Hailey Cajigas
Hailey, what do you want Charter to take from your win? 
"I hope in the future more queer people will feel safe enough to run themselves."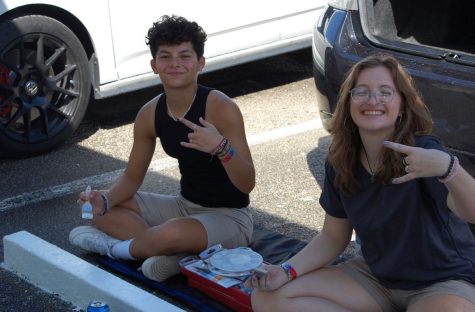 Their close friend and supporter Senior Leanna Brereton was also very moved.  "I'm really proud of them, it inspires me to run for prom queen or even as a prom monarch, whatever is available. Running together and winning together definitely promotes inclusivity."