Angela Lansbury and Robbie Coltrane: The Stories Behind their Magic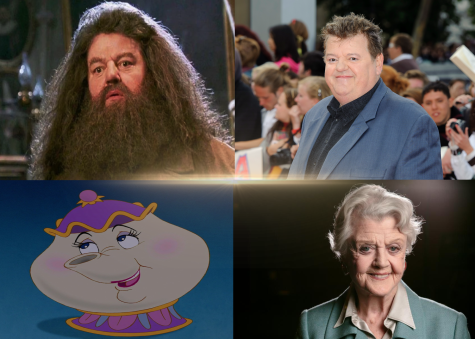 From the iconic faces of the Harry Potter saga to the musical voices behind Beauty and the Beast's dancing dishes, the magical words of dream-like stories are only brought to life through the work of the actors who play them. Though the two are tales as old as time, the legacies their casts have created will last longer than anyone could imagine. This week, following the deaths of beloved actors Angela Lansbury (who voiced Mrs. Potts in the 1991 version of Beauty and the Beast) and Robbie Coltrane (who played Hagrid throughout the entire Harry Potter movie series), we recognize this fact completely. They were the faces of our childhood; to honor their deaths means to celebrate their lives–both on the screen and beyond it.
   Lansbury's passing was announced on Tuesday, October 11, immediately catching many people off guard. Her voice behind Mrs. Potts was one that carried both nurturing and strength, making the character one of her most legendary roles and one of the world's most memorable Disney originals. Junior Jessica Lipman, who found herself in shock upon hearing about the actress's death, deeply admires Lansbury's contributions to the theater community. "I grew up with Beauty and the Beast being one of my favorite Disney movies, and listening to her sing 'Beauty and the Beast' always gave me chills," she reminisces.
   Throughout her 96 years of living, Lansbury also gained fame for her role in Murder, She Wrote and winning five Tony Awards (NBC news). As Jessica says, "Looking back at all of the accomplishments she has done is truly an inspiration."
   On Friday, October 14, it was revealed that Robbie Coltrane had also passed away, just three days after the announcement of Lansbury's death. Harry Potter fans of all ages were hit with the same immediate surprise and heartache when hearing the news, and some of his co-stars even took to social media to honor his memory. 
   Out of Coltrane's 72 years of living, about a decade was dedicated towards creating an image for the friendly (half-) giant of the Harry Potter franchise, Hagrid. To say he did it well would be an understatement for many, including junior and Harry Potter fan Amogh Baranwal. "Throughout the books, Hagrid was always portrayed as a strong, powerful, but innocent character who was a major help to The Order of The Phoenix… To me he was indestructible, he had such a troubled past but constantly made it through stronger than ever," Amogh explains. "There could not have been a better actor than Robbie Coltrane to perfectly encapsulate every characteristic and quality trait of Hagrid."
   Even when the cameras weren't rolling, Coltrane was still loved for being–as co-star Tom Felton described–a big friendly giant in real life as well (Instagram). Day 1 Potterhead Ms. Alongi couldn't agree more, remarking that "He seemed like this invincible, immortal, larger-than-life presence in the movies. But in interviews was so gentle and soft-spoken. It doesn't seem real for him to be gone." Hagrid is a comfort character for many, and we owe it to Coltrane for putting new life into his name.
   As both Angela Lansbury and Robbie Coltrane played huge parts of movies we now call classics, it's no doubt their legacies will be passed on from generation to generation. With their iconic work, we were allowed to use our imaginations to the fullest as kids. Now, we continue to give thanks to the actors for encouraging this within the children of the future.