Hosting a Party Like No Other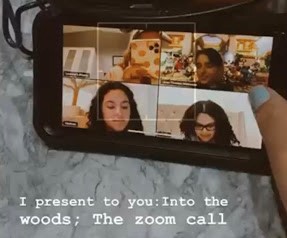 With the enforcement of social distancing, many people are forced to delay or even cancel parties or other important events. However, this was not true for junior Cambrell Prescott. Despite his birthday being the last day of March, his celebration was not spent alone. His friends came up with the perfect alternative to making sure this day would be memorable in its own unique way.
  They decided to surprise him by hosting his party through a call on Zoom, an app that countless are using for lectures or important meetings. It allows multiple people to be on call at once, and even gives access to everyone's camera. The experience was a touching one, and he expressed how much it meant to him. "It really shows how people love and care for you," begins Cambrell. "They want to be there for you even when they can't physically be there." The majority of people there were from his drama class, showing how a tight-knit community continues to stay connected despite being apart physically. Although it was not the same as a party in real life, the call cheered him up immensely. 
  Cambrell recommends that anyone else spending their birthday in quarantine should try using Zoom and connecting with their friends. While it is not the exact same, Zoom parties allow for people to socialize and hang out with loved ones despite the current worldwide circumstances. For Cambrell, this birthday was one like no other. 
Contributations also made by

Khaira Kure (YB)