The Black Panther Strikes Back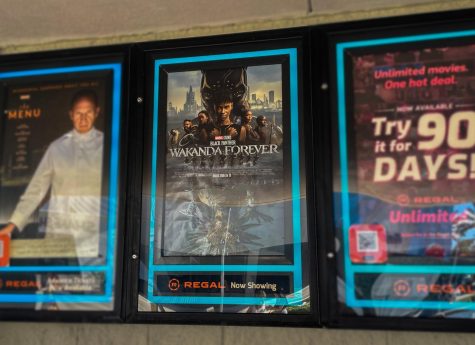 Warning: Spoilers ahead!
   Black Panther is back with a new movie! It has been two years since the legendary actor Chadwick Boseman died. His death had a significant impact on the film as he was the first to bring the Black Panther to life. On November 11, however, the character took an all new, but just as powerful, direction in his absence, and they were still able to make the movie better than ever. This outstanding movie will surely win many awards, and so will the actors, all of whom showed lots of raw emotion that seemed very in the moment.
   When watching the movie I saw a lot of genuine emotion, especially when T'challa died. Chadwick Boseman was the man who played the Black Panther, and he died before they could start making the movie. When he died it had a very big effect on everyone, including the cast, which shows why in the movie Shuri and Queen Ramonda were very upset and sad during that particular scene. 
   This movie was also very surprising and had many shocking events that caused some frustration among viewers. One of the shocking events was when Queen Ramonda died. Queen Ramonda was shockingly killed by Namor, whose name means "child without love". 
   Namor (also called K'ul'ku'kan) is a fish man who has a very demeaning life and, for centuries, he ruled Talokan, an underwater city. Namor is also referred to as the Feathered Serpent God throughout the movie as well because he was the only person of his kind to have feathers on his feet, giving him the ability to fly. Namor had kidnapped the queen's daughter Shuri, so she decided to get Nakia, an iconic warrior from the previous Black Panther movie, to save her. In the process, she kills two of Namor's people. This leads him to declare war on Wakanda and eventually even drown the Queen.
   Another amazing event in the movie was the reference to Iron Man with the introduction of a new hero named IronHeart, created by a young black teen named Riri Williams. She was a very big part of the movie because the entire storyline and plot was based on her invention. Among her designs was an iron robot just like the one Tony Stark created, which she had used to help the Wakandans fight Namor. This reference was admired by many, such as Alexis Williams who said, "I was excited to see the Iron Man reference because it was a nod to the original movie, and was a great way to honor Tony Stark, who had died in the previous movie." 
   This movie overall had many great aspects and events that made the movie ultimately the best. And not only was the action great, the music was as well. This movie featured Rihanna's new song "Lift me Up", which lifted many viewers' hearts, because of how great it sounded. Furthermore, I highly recommend this movie to all fans of Marvel and the action genre. Fortunately for all eager viewers, this movie is currently playing at all movie theaters. So go down to your local theater and enjoy the action, you will surely remember it for the rest of your life.