Monsters & Music in Miami: Lady Gaga's Chromatica Ball!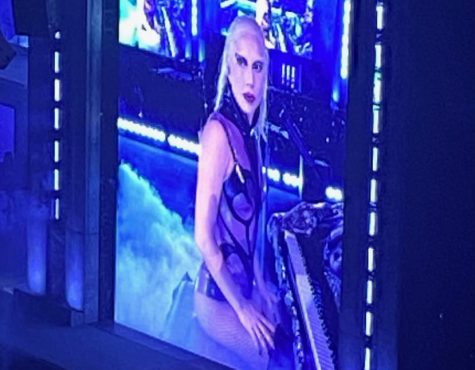 "I'd rather be dry, but at least I'm alive": fans of Lady Gaga were looking forward to hearing this iconic lyric from their Mother Monster's 2020 album Chromatica at the Hard Rock Stadium on September 17th. 
   From the moment Gaga came out on stage, flanked by equally energetic backup dancers, the crowd went wild. The entire stadium seemed to light up as the speakers blasted the powerful pop music, and the crowd rose to their feet, ready to kick off an unpredictable night. 
   Junior Carolina Arguelles was one of the fans in the energy-filled stadium, attending the concert with her older sister, who she describes as a "huge Little Monster", which is what Gaga lovingly calls her fans. Other concertgoers showed out, with many arriving in eye-catching wear that reflected the diverse and spirited fanbase that Lady Gaga has cultivated as a modern music legend: "All the outfits, oh my God, the outfits that people were wearing were the most amazing things ever. Like there [were] people in drag, people wearing these huge light up capes [with] like rainbows it was so freaking good," Carolina expresses. 
   The outfits were outshined by only one thing: the music. Carolina says, "My favorite songs from [Chromatica] were '911' and 'Alice'. So I really wanted her to play those. And she played most of the set list [which] I found…online, and it was so good." One of the most memorable moments of the night was before Gaga's self-love anthem "Born This Way". It was a moment that many fans await the most during a concert–a rare moment of intimacy between the audience members and the artist. Carolina exclaims, "…I sobbed tears. She talked about everything in her life and how she used to be depressed and [how] she used to hate herself and how she's really explored more ways of loving herself." 
   Not too long after these memorable moments, though, the clouds in the sky posed a threatening warning sign, and only one question lingered: would the audience get to have a "Rain on Me" moment in the rain? After about three quarters of the set list had been burned through, weather conditions were starting to look worrying. The concert was paused as a precautionary measure, and the crowds were forced to wait a few hours in the stadium due to thunder and lightning. But the show must go on. The gigantic screens displayed a message signifying that the concert would be starting up again and that the storm had passed. "Everyone ran into the pit, literally, every single person…it was so freaking cool. Me and my sister ran in and I was exhausted because it was like 11:30 and I usually go to sleep at 10, and I was…exhausted but…it started raining so everyone was getting soaking wet in the pit and it was so freaking fun," Carolina reminisces. 
   However, this was a short lived moment of happiness. They ended up having to cancel the concert, and Lady Gaga "came out and she said 'You know this is the last stop on the tour, I really wanted to keep going for you guys and, you know, 'rain on me I'll be your galaxy.' She did a little "Rain on Me" joke and it was honestly so good, it was so amazing. Definitely something I will never forget," says Carolina. This sentiment is echoed by junior Orion Taleon who was also in the crowd. He asserts that his experience was "truly moving" and says "the Gaga concert changed the trajectory of my life. Was mad at Florida for raining on me but anything for Gaga." 
   "I only asked you to show me a real good time" Gaga sings in "Rain on Me". Although the audience in the Hard Rock Stadium were unable to have a "Rain on Me" moment in the rain, it's safe to say that Miami's Little Monsters got "a real good time"—and much more at the Chromatica Ball.