Carving Himself a Reputation 
   It started with an idea that was put into action. Plucking the envisioned handmade whistle from his mind, along with a piece of wood and the crude tools at his disposal, the first of many pieces of woodwork was created. 
   It took hours. The whistle was petite in size: painted a smooth black with a branch running along its side, a pink blossom adorning its center. Carefully painted on the other side were Japanese characters that gleamed in white, and a single red stripe that wrapped around the bottom.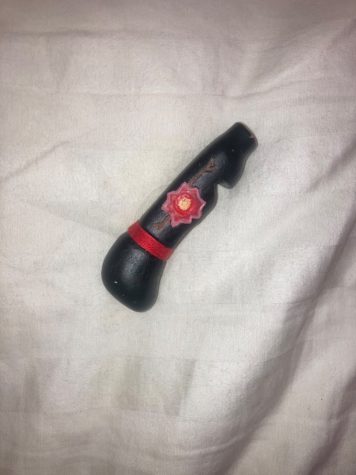 Both the meticulous process and the end product were love at first sight for senior Tarek Eltantawy. It took giving the whistle away as a gift to realize the power of his newly discovered art, and the determination of wanting to continue. "Every time I'm carving, it's an escape, a creative outlet for me," he emphasizes. This discovery a year and a half ago propelled him to extend the influence of his craftsmanship onto an Instagram account, with content ranging from time lapses to posts dedicated to final products. Most importantly, the account is also open for commissions via direct communication.
   Between graduating high school and keeping up with his flourishing business, Tarek can't wait to have more time to carve. Prioritizing commissions doesn't stop him from being full of ideas for personal projects on the side. On the contrary, receiving requests from customers gives him an opportunity to creatively expand his imagination and technique. Many clients present a generic concept, and confide in him to add his own unique embellishments, granting Tarek an opening to express his originality. 
   Junior Helen Godoy proudly owns his first ring commission, painted an eye-catching pine green. "I find beauty in what he is doing. He takes a material you see often, and uses it to make something glamorous," she adds, "He did a really good job; I definitely plan on asking for another one with a more intricate design because I know he has both the power and creativity to do it."
   Once an idea or request has taken form in Tarek's mind, finding the right piece of wood is the next step. Commencing the rough shape, outlining its important features, and then further whittling the wood with his carving knife is essential to steps that follow. Using his dremel tool, he then engraves the finer details, and smooths everything with coarse sandpaper afterwards. Applying paint breathes life into the design, and the vibrant hues are further preserved with a clear coat that gives it its sheen. 
   Out of all the commissions done so far, the most recent piece was the most challenging and fulfilling for Tarek. A customer requested a keychain with a custom beherit, a powerful rock with human-like facial features from the anime Berserk.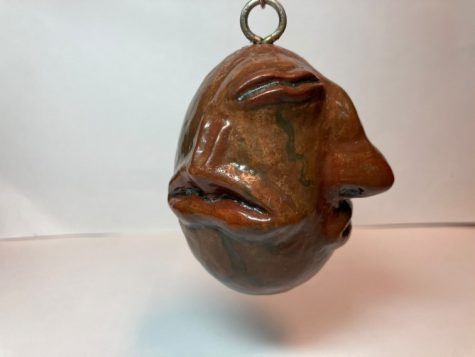 "It was hard to get the proportions right and make it look as if it's supposed to all be together," Tarek admitted. While working, it was essential to push through doubts in the initial stages and await the moment where the handmade beherit started to resemble the reference picture. 
   As he reflects on his growth, Tarek notes his efficiency increased drastically. Carving, naturally a slow process that requires plenty of patience, was further extended by his perfectionist mindset. "If I noticed the tiniest thing, I'd be like 'I can't give it to them,' " he says, "I couldn't. I had to fix that mistake. Even if it's not a big deal and my customer might not notice, I would still feel the need to fix it." 
   Tarek's special perspective of his carving interest also prompted him to enjoy the challenges commissions often brought. "Instead of doubting myself, more advanced designs reaffirm that I can create whatever it is that I envision in my head… at least so far," he ends with a smile. He has yet to discover the limits of his capabilities, things outside of his skill level, but Tarek believes in his determination and constant practice over time. 
   Next year, he'll head to the University of Miami to fulfill his aspiration to be a dentist, just like his older sister. The wood carving chisels resemble the dental instruments he will learn to handle, as they both require the fine motor skills Tarek possesses. As he is "100% [positive] he wants to [carve] in the future," both his enthusiasm towards his future career and growing hobby will only progress in the time coming. 
Follow his business Instagram  @tbecarving!