Buzzing into a Speller's Theater
PPCHS Theater Presents: The 25th Annual Putnam County Spelling Bee!
April 18, 2022
Your word is: C-O-W
   For this year's spring production, Theater 3/4 presented their reimagined version of the all-time hilarious 25th Annual Putnam County Spelling Bee. This musical tells the tale of socially awkward junior high students uncovering joy, heartache, and purpose as they compete at the regional spelling bee (Playbill). With an amusing twist, PPCHS' Theater department transformed this storyline into a blockbuster event. 
#Rehearsal Bites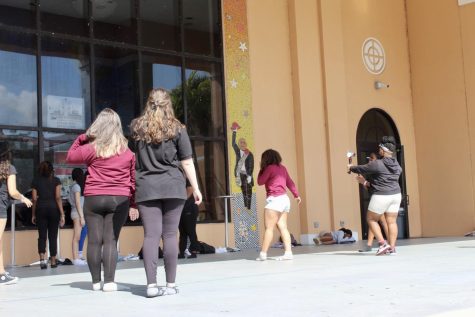 As the performance grew closer, cast members were regularly at the River of Grass till 5pm rehearsing their cues, lines, and voices. One of the most memorable moments being a part of the production was the experience of going backstage. Under the pitch-black lighting, one will unexpectedly turn to see the dressing room packed with laughter, jitters, and excitement as each actor transforms into their characters; oftentimes self-affirmations and snacks were a typical sight to see. 
   Leading up to the show, the cast got very creative and made their way to classrooms and onto the announcements. Senior Adeline Rodgriguez was the designated speller and quoted how fun it was: "Funny enough while we practiced the script a couple of times, I inevitably never learned how to spell the word ," making it ever-so-more authentic. 
   The nights of the performances, cast members gleefully huddled around each other bittersweetly for their last run as a crew.  With an emphasis on delivery, the pressure was on to match facial expressions with the lines of the characters and the messages of the songs. But, with a skilled teacher–Ms. Sanford– each student was able to thematically impress audiences. In fact, a musical director and a choreographer were called to assist in teaching the music and dances!
  #ANighttoRemeber
 Bringing the coming-of-age story to life were the ecstatic, diverse set of characters. Opening the scene was the spelling bee's host/judge Ms. Rona, played by senior Leah Torres, who euphorically impressed audiences with blissful vocals. Alongside Ms. Rona at the judge's table was Vice Principal Panch, delivered by the 'male-ace' senior Anthony Valdes. With a witty sense, Panch took the show to another level with his sarcastic, yet "appropriate" moments as his words would decide the spellers' fate. To accompany the 'losers' of the spelling rounds was Mitch Mahoney, played by Sarai Francis, bridging reality with acceptance. As the play progressed each speller was introduced in their own comical ways.
Logainne Schwartzandgrubenniere, played by junior Emma Schenker, was odd, yet conflicted given the pressure to impress her gay moms.  

Leaf Coneybear, played by junior Maria Funes, played a distracted and innocent character; until he was confident in himself he was unconvinced that he was smart enough to be a competitor.

Chip Tolentino, played by junior Riley Bauer, uncovers the quirky side of the show as he publicly struggles to grapple with puberty. 

William Barfee, played by senior Adeline Rodriguez, shows his bold and sensitive edges of personality as he hilariously showcases his powerful 'Magic Foot' that helps propel him to victory.

Marcy Park, played by senior Jena Legaspi, proves to everyone that she is the overachiever conflicted with her constant success.

Olive Ostrovsky, played by senior Nicole Wyman, kindly wins over the audience's hearts with her sweetness and shyness accompanied by her only friend: her dictionary. 
   For junior Riley Bauer, her transformation was unlike any other: "I have never played a male character before, but it was still exciting. He is such a huge departure from what I usually play in terms of appearance, acting, and vocals making it really challenging. But, it was really cool to break out of my comfort zone…"
   With the hilarious and touching songs, each musical number brought out each spellers' hopes, struggles, and passions as the competition progressed. By entangling the characters' deep thoughts it made the scenes extra moving, or even the opposite. With the character of William Barfee, Adeline was sure to accentuate her character's quirky features, especially with her 'Magic Foot.' "As awkward as he was, I felt so comfortable playing his part despite our 'notable' differences", Adeline expresses.
   Unlike many traditional plays, this performance engaged with the audience! After a ten-minute intermission the 'Snack Break' transitioned with Chip bearing snack-related gifts. Even Ms. Rona's no cell phone disclaimer threw many adult audience members off. Towards the end, these flashes of laughter continued with the 'random' spelling contestants from the audience. Principal Bayer was one of the lucky spellers, and for him it was "a lot of fun to experience." At least with every exit spellers were given a juice box for participating…
   Between these comical moments many of the characters matured, but even with this, Vice Principal Panch stole the show. "In retrospect I technically drove the story forward as I would set [others] up and then take them out of it. While it added another layer of pressure, setting up those jokes was my favorite part," Anthony shared. Some of the most impressionable words include "Accochi" and "apoop", throwing off the 'knowledgeable' spellers. 
   For being a fast-paced musical, many audiences were raving about the performance. While their hard work sometimes goes unseen, the Theater department was happy to see their performance blossom brightly. After countless hours of practicing, the actors were able to conclude this year's theater chapter on a high note–especially in the wake of the seniors' departure.