Charter's Rockstars: The Rubber Hearts
   The stage is set. Speakers line the front steps, a black and brown drum set sits elevated in the back , two microphones are front and center, as drum sticks, guitars, and picks are in hand. With one clash of the cymbal and strum of the guitar strings, a voice follows behind and echoes over the speaker across the front stage of the River of Grass. Down below are half the Charter student body with their heads bobbing and administration and teachers cheering on with signs of support. 
  This euphoric dream of playing for a benevolent audience is a reality for senior best friends. 
  Izaac Garcia, Aaron Tsoi, Tyler Berman and Jordan Collazo, who together form The Rubber Hearts.  
  Izaac goes front and center as both vocalist and guitarist, right next to guitarist Aaron Tsoi, and bass guitarist Jordan Collazo. In the back is none other than Tyler Berman who makes his presence known with his drum set. 
  Izaac and Jordan became friends in seventh grade upon learning they both had a passion for music and going to concerts. Aaron was introduced to them after the formal in eighth grade. Aaron explained, "Izaac came up to me and asked if I played guitar because he wanted to start a band." From there, a few months passed and the band began to take shape. All that was missing was a drummer. During sophomore year, as talent show auditions were coming up, they found their missing drummer in Tyler. From then on, the four became the Rubber Hearts. 
  Today, they perform at different venues for their friends, families, churches, volunteer organizations, and our school! They were noticed by Ms. Battle during Ultimate Jag auditions and were offered to continue playing at the River of Grass. Tyler explained, "We couldn't have done any of the shows without our overwhelming support from teachers and especially from Ms. Battle." During the Pep Rally the band was also given the opportunity to be one of the acts. Aaron stated, "It was a great opportunity to play at the school especially in pep rally. I want to thank administration for letting us play and our supporters for listening to us and being so involved. We could not have asked for a better turn out than people enjoying our music". Commissions for other events for anyone interested on their instagram @rubber_hearts_band.  
   Their first song, Girl of My Dreams, is streaming everywhere starting March 11, and a full album later in May.
  As Charter's very own rockstars, the best friends of The Rubber Hearts show the fruit of unwavering determination. As Izaac stated, "What we didn't know was that 4 years later we were going to be releasing our first album and playing big shows." They are sure to continue rocking the stage for years to come; make sure to keep a lookout for them and their future releases!
Tyler Berman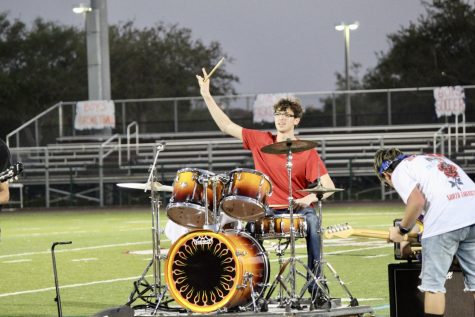 Tyler Berman had been a part of his middle school band for all three years, and began to learn the drums in  8th grade. He drew inspiration from the showmanship and songwriting of Queen, explaining "they're like nothing else there is". Proud of his own band's progress, "Getting to watch the group grow from the days of playing together in a living room to playing for crowds of upwards of 100 people has been one of the best projects of my life". Tyler plans to continue the band into college through a shared program where they could record anywhere.
Izaac Garcia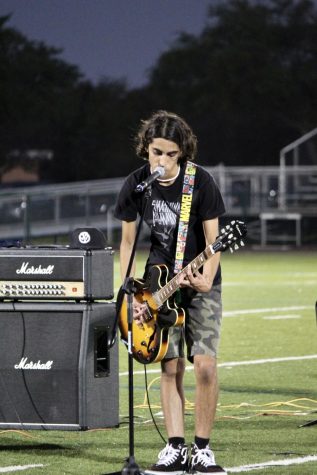 Izaac Garcia was introduced to music by his dad and has been teaching himself since he was 5 years old. He finds his inspiration for songs from everyday things as they "suddenly pop into his head". Being a part of Rubber Hearts has been an amazing experience for him, he stated, "I love being able to turn around and see the big smile on Tyler's face and look to my sides where Jordan and Aaron are jumping around. I love playing live but playing with these guys makes it so much more fun and I wouldn't want it any other way." He decided to join a rock band and tour because of the Beatles, and took inspiration from both the Foo Fighters and Switchfoot for his songwriting.
Aaron Tsoi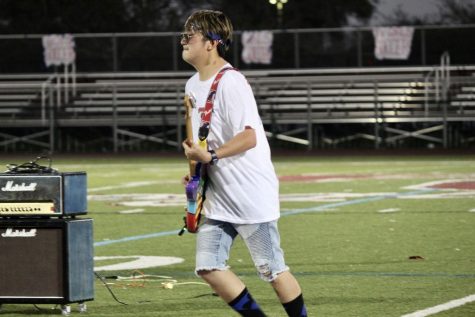 Aaron Tsoi began his music journey during 1st grade with the piano, which according to him he "hated". Looking for his right path, he started playing songs by the Beatles and Beach Boys on his guitar and his love for the instrument grew. He's taken being a part of The Rubber Hearts to grow and stated, "My favorite part of being in The Rubber Hearts is being able to write, create, and share music to people and being able to express myself while creating friendships." He makes sure to keep a charismatic and upbeat atmosphere as a member of the band. 
Jordan Collazo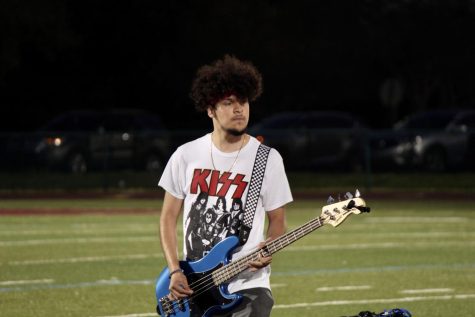 Jordan Collazo looks up to his mother for the beginning of his music career. She exposed him to rock socks at age 5, allowing him to attend 30 concerts and learn songwriting along with  piano and bass guitar. He states, "For me, I grew up listening to a lot of late 90s and early 2000s rock, so bands like blink-182, Foo Fighters, Red Hot Chili Peppers, Incubus, Green Day, and Pearl Jam had a huge influence on me". Being in The Rubber Hearts has allowed him to understand that, "a lot of work is put into learning and recording songs, but once you get all of that down, you can just jam out and have fun." He enjoys playing in front of crowds and being able to perform the very songs he grew up listening to.
Be sure to catch them on The Pawcast!