In Brief: February 2022
The Russia-Ukraine Conflict Escalates 
   Is this the start of World War III? Will we get involved? How will this affect us? These have been some commonly-asked questions in the last couple of weeks as the conflict between Russia and Ukraine has steadily escalated. In the early hours of Thursday, February 24th, the conflict reached its climax as Russian forces invaded Ukraine. 
   The two neighboring countries have a complicated history, and tensions between them have been simmering for years, but things recently took a sharp turn for the worse. Two separatist republics in Ukraine, the Donetsk and Luhansk regions, were officially recognized as independent by Russian president Vladimir Putin on February 21 (The Hill). Russian troops were sent to the regions shortly after. 
   Before the first explosions were heard on February 24, Putin stated in an early-morning speech that the goal of this "special military operation" was to "demilitarize" but not occupy Ukraine (New York Times). Explosions were reported near major Ukrainian cities that day, including the capital, Kyiv, according to Ukraine's interior ministry. As of February 25, the fighting has reached the outskirts of the capital, the Ukrainian death count has risen to at least 137, and the U.N. estimates that 100,000 people have fled their homes amidst the violence (AP).  
   Putin's invasion has unsurprisingly been met with international outrage. Following the mobilization, President Biden announced a slew of sanctions against Russia, specifically targeting banks and oligarchs. Other Western countries have taken similar measures in a show of support for Ukraine (Reuters). 
   As Russia is the second-largest oil producer internationally, gas and oil prices have been disrupted due to the invasion. In the United States, the national average gas price rose to $3.57 a gallon on February 24th, and experts predict that many U.S. states could see prices as high as $4 a gallon by the beginning of spring (USA Today). 
   President Joe Biden has recently been in touch with Ukrainian president Volodymyr Zelenskyy, and has commended on  "the brave actions of the Ukrainian people" (NBC). 
What is the "Don't Say Gay" Bill? 
   On Thursday, February 24th, the "Don't Say Gay" bill oficially passed in Florida's House of Representatives. The 69-47 vote has completely captured the attention of social media, international newspapers, and various celebrities. This very bill holds the potential to shape the future of education and gender acceptance as we know it.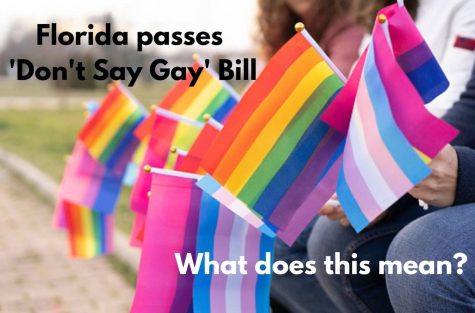 The stated motive of this bill is to promote parents to be more actively involved in their children's welfare. According to this controversial legislation, school districts "may not encourage classroom discussion about sexual orientation or gender identity in primary grade levels or in a manner that is not age-appropriate or developmentally appropriate for students" (ABC News). In addition, the bill guarantees that parents have complete access to a student's "mental, emotional, or physical health or well-being", which can result in the outing of many student's gender identities to their families without consent. 
   However, this bill is recieving harsh criticism by many LGBTQ advocates, arguing that erasing LGBTQ presence from schools and education holds the implication for students that their sexual identity is something to be ashamed of. Furthermore, notifying parents of their children's identity regardless of their boundaries may pave the way to abuse and neglect within homes.
   If passed, this bill will go into effect July 1 of this year.  
President Biden Makes Historic Supreme Court Nomination
   Ever since Supreme Court Justice Stephen Bryer announced his retirement in January, Americans have been curious to see who President Biden would pick to fill the empty spot.
   He carried out his 2020 presidential campaign promise to put the first ever black woman on the Supreme Court, announcing his nominee on February 25: Judge Ketanji Brown Jackson. Jackson grew up in Miami and is a graduate of both Harvard College and Harvard Law School. Currently, she is serving in the U.S. Court of Appeals for the D.C. Circuit, but her professional background also includes working as a public defender, clerking for Supreme Court justices, and privately practicing law in both small and large firms (NPR). 
   In a speech given at the White House after her historic nomination was announced, Jackson stated, "I can only hope that my life and career, my love of this country and the Constitution, and my commitment to upholding the rule of law and the sacred principles upon which this great nation was founded will inspire future generations of Americans" (NBC).
   However, even if Jackson is confirmed by the Senate, and takes her seat on the Supreme Court, the 6-3 conservative majority will remain.  
For more extensive and updated coverage on these topics and students' responses, look out for the CHAT's next issue, releasing in March.