The Best Is Yet to Come for Class of 2022
   In a span of four years, students embark on a venture meant to serve as preparation for college and "the real world." Practically every school decision aids in the process of receiving that all-fulfilling acceptance letter. The ever-so suspenseful moment is carefully curated by years of diligence, studying, rigor, and determination. 
   Senior Julian Villarta was accepted into multiple colleges, among them was Georgia Institute of Technology, or more commonly known as, Georgia Tech. "The most exciting [to receive] was probably my acceptance to Georgia Tech (Georgia Institute of Technology.)  It was really unexpected, and I was extremely surprised." Villarta expressed his reason behind applying for Georgia Tech, stating "Georgia Tech is an amazing engineering school and, there's a big engineering community there (50% of admits were engineering majors). There's [a] lot of opportunities for undergraduates, [and] opportunities with internships and research opportunities." Villarta also alluded to the excitement of living in Atlanta, Georgia. "…It's located in the heart of Atlanta, with not only lots to do on the weekends, but a lot of big companies are there as well." In regards to potential job opportunities, "…a lot of companies recruit directly out of Georgia Tech so finding a job after graduation is really easy. Overall, it's a great academic school with a prime location filled with lots of opportunities." 
   For senior Armando Rodriguez, Florida Polytechnic was the right choice. "It was most exciting to get accepted into Florida Polytechnic which was my first choice, because I was not sure I would get in based on academic scores." His decision to apply was dictated by the many programs they have to offer: "It was my first choice school because it had all the programs I wanted going to university so I was ecstatic to learn that I was accepted. It felt like a huge weight off my shoulders. Additionally, they sent me a letter as to why I was accepted regarding my extracurriculars which was gratifying to know that the things I chose to do, outside or core academics, helped me."
   Senior Stella Dioguardi is yet another senior with outstanding acceptance letters. "One of the most exciting acceptances that I have received this year is from Clemson University. Visiting Clemson last year in March was an amazing experience therefore, when opening my updated application status page and seeing that I was accepted was one of the best feelings." Although her dream school has yet to make their final acceptance decisions,  "I am still waiting to hear from my dream school, Brown University…" Clemson is very much in the running for her choice of colleges for 2022,"…but as of now Clemson is one of the top schools that I might be attending in the Fall of 2022."
   Senior Daniel Valderrama expressed his gratitude for his first acceptance letter from FAU, but ultimately, in terms of most fulfilling, the title was awarded to Cornell University. "Although my first acceptance letter from FAU was super emotional because it eliminated the doubt that I had of perhaps not going to college, [b]y far the most fulfilling and exhilarating moment was when I logged on to the Cornell updated status page and I saw the first word which was 'congratulations.' I was admitted to the university." Daniel's decision to apply is meant to inspire others around him. Although Ivy league schools appear to be the Mount Everest of schools, Daniel's acceptance allows others to aspire to achieve the same feat as him. "Honestly, I never read anything besides the fact that it was an Ivy League located in the middle of nowhere in New York and the weather was cold. These were not the ideal conditions that I had in mind but I didn't pay attention because in reality I never thought of applying there until I decided at the last minute, why not. I wanted to prove to myself and to everyone around me that it was possible to get accepted into an Ivy League even without the best resume or test scores. Most people discard the possibility of applying somewhere prestigious and that should not be the case. A main factor as to why I applied to that particular school was that it did not require a lot of writing supplements and this helped because I had procrastinated and I was in a time crunch which I highly discourage. However, more importantly they offered need based financial aid. This is something many people don't know. Most universities will find a way to make it accessible to low and middle income families so this shouldn't stop people from applying there."
   Similar to many other seniors applying to colleges, senior Jaden Calveiro applied to a variety of different colleges. "I applied to 4 colleges and I was waiting for FGCU (Florida Gulf Coast University) which was my number 1 choice because of their beautiful campus." The moment of receiving an acceptance is a feeling like no other. Not only are fears of not getting accepted anywhere demolished, but the suspense of the months of pent up stress is released in a single moment."When I saw the letter I ran inside and opened it as soon as possible." 
   With the amount of stress that accompanies senior year, college applications can be the most daunting of all. With that in mind, these seniors have a variety of tips and tricks to help ease the process. 
   For senior Jaden Calveiro, taking the SATs and ACTs the earliest date possible makes all the difference. "I would say take dual enrollment and the SATs and ACTs as early as possible so you can get your Associate's degree and get into colleges you want as fast as possible."
   Both seniors Jullien Villarta and Daniel Valderrama are in agreement that the essay makes all the difference. As Jullien said,  "[m]y biggest advice is to just be yourself, especially in your essays. It sounds simple but when you write your essays it should sound like you are talking. The best advice I've heard about essays is that it's about 'expression, not impression.'" Similarly, Daniel explained his experience with his essay, stating, "Personally, what I felt separated me apart from the rest was my essay, I suggest planning it out as early as possible. What worked for me was making my essay personal and I thought of it, not as a school assignment, but as something meaningful to me. Then, having an English teacher, Dr. Phillips, who really provided excellent insight and guided me throughout my essay. Senior year will be stressful nonetheless, but try to get and get through the most tedious things out of the way like test scores and continue extracurricular activities…" Procrastination and time management is another tip that both seniors say makes all the difference. "Timing will most likely be an issue. I stressed a lot during the final day for my applications, so it would have been nice to spend more time on writing supplements rather than speed running through it before 11:59 on the day…," Daniel expressed. "Also, it's fine if you don't have everything figured out (your major, dream job, etc.), just don't procrastinate because doing last minute supplements is not very fun," Jullien adds.
   Senior Armando Rodriguez says that extracurriculars are the best way to add to any application. "Grades are important, but you should try to have some type of club/sport that means something to you. It makes you look like a more well rounded person and makes your college essay a lot easier to write. A lot of schools are looking for more than just grades, sports and other high involvement clubs make a big impact on your chances of getting into the schools you want. Also, try to stick to one thing, schools look for continuity and commitment; it looks better for you to have multiple years in a club/sport rather than 1 in a bunch of them."
   Senior Stella Dioguardi explained the achievement of just applying to colleges while expressing an important reminder: everyone has a path meant for them. "To start off, applying to college is already a big achievement! If I had to give one piece of advice it would be to stay positive through the whole application process as it can be very nerve wracking and stressful. At the end of the day, know that you tried your best and wherever you decide to go, it'll be meant for you." 
   The important part to remember is the part that often goes forgotten, and that is, don't stress too much. Take in the process and know that regardless of the school, there are many different roads in life, and every person has a different one meant for them.
Leave a Comment
About the Contributor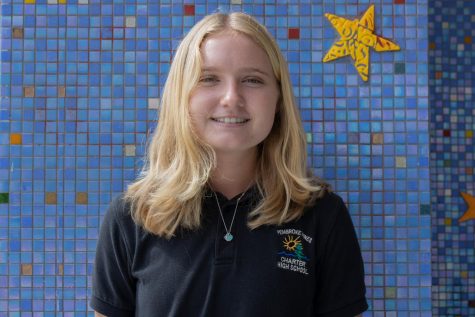 Lindsey Smith, Arts & Entertainment Editor





Hello, my name is Lindsey Smith! I am currently a junior and this is my second year in the CHAT. This year I will also be serving as one of your...