Hitting the Back of the Net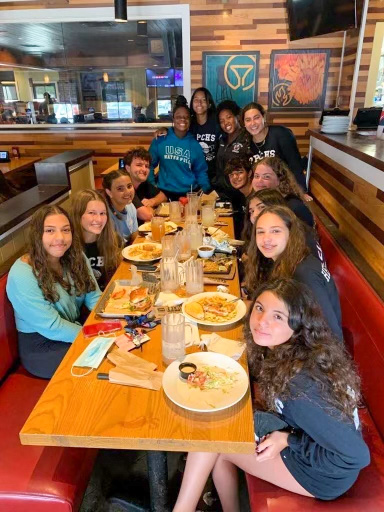 After just returning to the pool for more than five games just a year ago, the girl's water polo team is back and ready for another district championship run.
  Just like Charter's other sport's teams, COVID-19 negatively affected the school's Water Polo season. When the virus had just hit South Florida, they were forced to start their season earlier than usual, in case anything happened to the players and staff waiting for their season to start. That being said, their "spring" season unfortunately began in the winter. 
  Nonetheless, they were only able to play four games. This was primarily due to players testing positive for COVID. As positive results came back more and more often, Bayer believed that the safest decision would be to end the season early. The team didn't have the chance to show their true potential, only going 1-3 that season. 
  With regulations being easier to surpass and COVID cases dropping down, the girls had a longer season to look forward to during Spring 2021, and they seized this opportunity very well. The Jags played ten more games and went 9-5. Moreover, they went 3-0 in their division, finishing in first place.
  Leading the team for her senior season, Stella Dioguardi can't be more excited for this season to start. "Last year we made it to the Regional Finals," she said, "And I am very confident that we will get there this year again." It being her last season, she received the team captain role by the coach. 
  Another player to look out for is junior Kathia Jaramillo, who stacked the stats last season alongside Stella. She is just as hopeful and happy that they have more time to practice this year compared to last year. "Last season, we only had a week before the season started," she stated. "This year we have a preseason so I think with more preparation we'll do even better." Her main goal for the season is for them to win regionals. 
  With high expectations and an improved team, another successful season is in sight for the girl's water polo team.