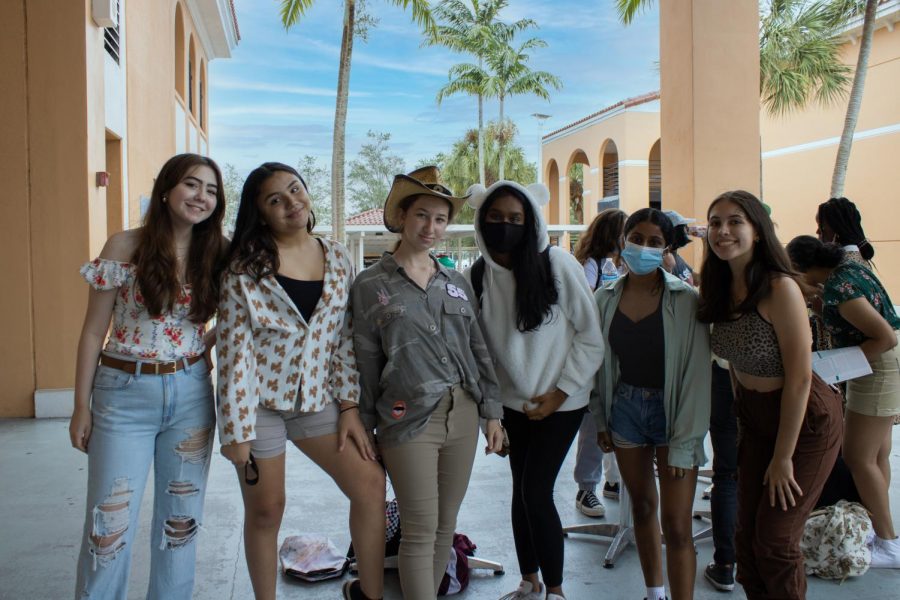 A Roaring Day: Spirit Week's Call of the Jags
Day Two: Call of the Jags
   Costumes from the previous spirit day are tucked away as leopard print, striped, fluffy and countless other wild animal themed clothes make appearances. Two steps out of the car and a giraffe onesie can be seen off in the distance, extending into the courtyard. Bunny ears, whiskers and smiling faces. . .
   "Call of the Jags" day two of spirit week begins.
   Following Halloween, the hype of zipping up costumes and wearing fuzzy ears and tiny tails spills into Spirit Week. This gives students the opportunity to flaunt numerous outfits, especially if they "couldn't decide on one costume" as Pines Charter sophomore Lauren Castillo points out. If all the bells and whistles of the costume couldn't be fit into Halloween night, "then you can be something good for spirit week" she continues. While shoving through the packed campus, some costumes catch more eyes than others. Not only did the high schoolers set their eyes on the most elaborate costumes, but many duplicates were seen throughout the buildings. "There were cows everywhere" on Tuesday, Lauren recalls, with black and white spots spreading like wildfire across Pines Charter. 
   Spirit Week is not only a time for classmates to dress up, but it's also a time to make memories of a lifetime when it comes to friends and family. Attending high school is an even more special experience when you have a sibling by your side as Lauren does. Her sister, Maci Castillo, a senior who also attends PPCHS, mentions how "seeing us all dressed as [the three blind mice] was a super fun experience." Throwing on pink and gray ears and a pair of sunglasses isn't all there is to it, it's the joy of  "doing it with my friends" as Maci puts it. 
Shifting from unimaginative uniforms five days a week to stripes, tails and fur isn't common at school, thus making Call of the Jags a unique day for high school students.