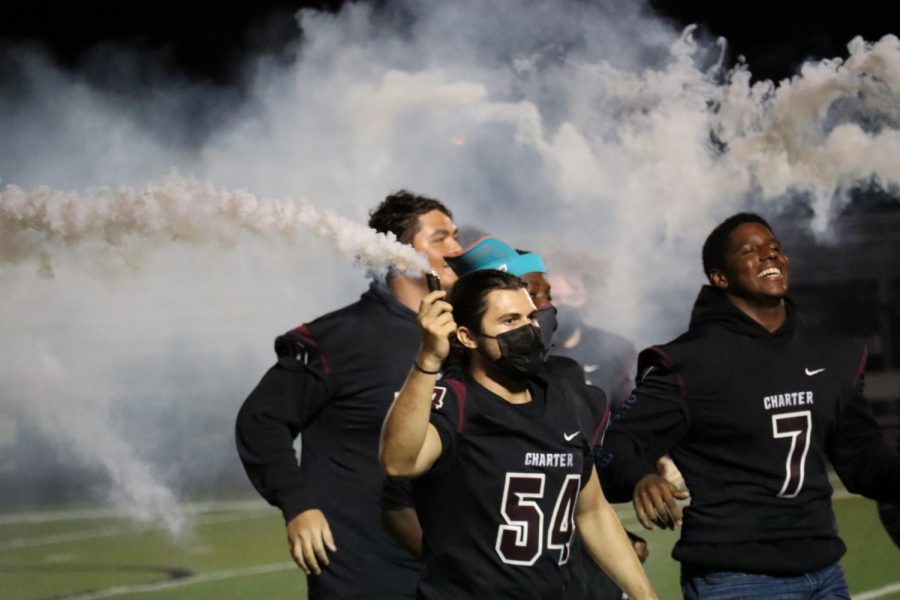 A Night Full of Spirit: 2021 Pep Rally
  As the sun went down, the Jaguar spirit rose. Charter's first pep rally in two years was finally happening. As final preparations were put in place by sports teams, clubs and SGA themselves, the pieces had finally fallen into place. Months of hard work, sweat, and tears let out with one goal in mind: returning pep rally to its full glory. In the eyes of many, this goal was certainly accomplished and the Charter spirit reached the stars. 
  In true jaguar fashion, pep rally rolled out with all of the usual fall sports: football, basketball and volleyball. Energizing the crowd like no one else could, bringing out tiktok dances, team chants and even friendly competitions with their own teams. The football team and basketball team went head to head in an intense tug of war match which ultimately turned into a shirt throwing frenzy, with the football team coming out on top. 
  Once sports was over it was time for the audience to join in on the fun pep rally always brings. A variety of other games took crowd volunteers and turned their pep rally experience into something that had never been done before. The audience members had a lot to say about their experience, specifically Senior Jordan Collazo who said that "The atmosphere at pep rally was great. Everyone was cheering for the performers and for anyone participating in the games. I thought the entire thing was amazing. I got to see a lot of good performances from many different clubs and the games were a lot of fun to watch." After the fun and games, a more serious vibe replaced it, as fashion club strut onto the field leaving a hint of mystery with every stride.
  As the sound of Kanye West's "Praise God" bounced off the bleachers of the Jaguar Den, a series of intense walks by all members of fashion in all black jackets took place as the crowd couldn't contain themselves. Suddenly, "Go Down Deh" by Spice hits the stands, and model by model, Wizard of Oz themed outfits appear as the black out look slowly faded. One last Kanye classic, "Stronger" ended off the powerful performance by a club that never fails to hype up pep rally. From one club that never fails to impress to another, Latin Dance was up next ready to blow the crowd away in their return to the pep rally stage. 
   "Que Se Sepa" by Roberto Roena boomed through the speakers, Latin split into their introductory formations and the crowd went wild. The boys began their solo's hyping up the crowd with every step. Then once the girls joined and the pairs conjoined it was time for the real showstopper. A flawless performance of salsa perfectly exemplified what three months of endless practice and hard work could do. With a series of twists and turns the crowd soaked up the Latin flare that the Latin Dance team always brings. Performances by the dance team and the marching band  was the perfect way to end a Jaguar pep rally. 
   Student Government President Lexie Galletta felt really proud about how Pep Rally went down and appreciated all the effort everyone put into it. "Pep Rally was definitely one for the books. After many years, SGA did our fall pep rally at night! Not being during school hours will always face challenges, (students are upset they won't miss class, getting a ride to the stadium at night is difficult, etc.), but, with all of the promotions we did, over 1,000 students attended the event! Prior to the event we wanted to do a pep rally walk through, but that was the week where it rained everyday! We did a walk through 30 mins before the Pep Rally itself even began. All of the officers had a good understanding of how the event would play out, and with all of the SGA meme era working together, we were able to successfully put on an event for our school! Based on people's reactions, we may be doing more outside pep rallies in the future!"  Even after all its challenges SGA definitely made Pep Rally one to remember! 
   Bursting with school spirit, charter kids truly proved that they know how to make a school event go down in Charter history. 
Arts and Entertainment Editor and Sports Editor
Camila Escobar and Adam Abougendia