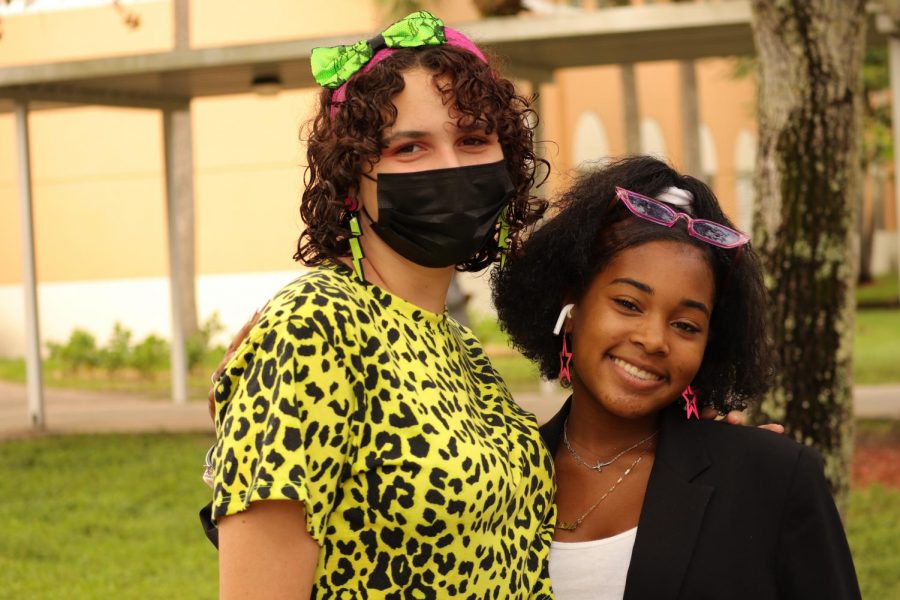 Pines Charter Takes a Step Into a Time Machine
   Time is ticking before the end of an exhilarating week, and our fellow high school students are making the most of the two days left. Setting their alarms 15 minutes earlier than usual in dim lit rooms to get ready to go back in time, students gradually arrive at school embodying various decades of style. Colorful accessories and looks of all kinds are present for Spirit Week's "Time Travel" Day.
   Decade after decade, age after age, the high school courtyard fills up with unrecognizable students dazzled with neon makeup, baggy pants, and satin jackets. Eclectic styles amongst students bring a new side of everyone to light. When deciding what point in time her outfit corresponds to, sophomore at PPCHS, Kiley Irizzary, points out how her choice came to her in a snap. She "chose this time period because [her] mom was in her 20s during the 2000s," which made putting together "low rise jeans and the big belt" an effortless answer right in front of her eyes.
   Whether it's a bold choice of colors, materials, or patterns, every point in time has its individuality that distinguishes it from the rest. In contrast to Irizarry, Pines Charter sophomore, Sage Carey, takes her outfit inspiration from the late 1980s with a vibrant red letterman jacket also found in her mom's closet. When thinking of Spirit Week in a matter of simplicity, she believes the pop of the 80s is "coming back in style." Being able to blend it into day to day modern outfits explains her fondness of "the styles from this era." 
   Taking part in a humorous trend, upperclassmen were seen with wrinkles and walkers throughout the campus representing both meanings of the word "senior" at once. Adding something fun for their grade level to enjoy together is one of the many cherished memories the graduating class has the opportunity to make during their final year in high school. 
   Heading back to a time much different than now with distinct styles, or flashing forward to old age, "Time Travel Day" for Spirit Week gave students a glimpse of countless styles and endless laughter.