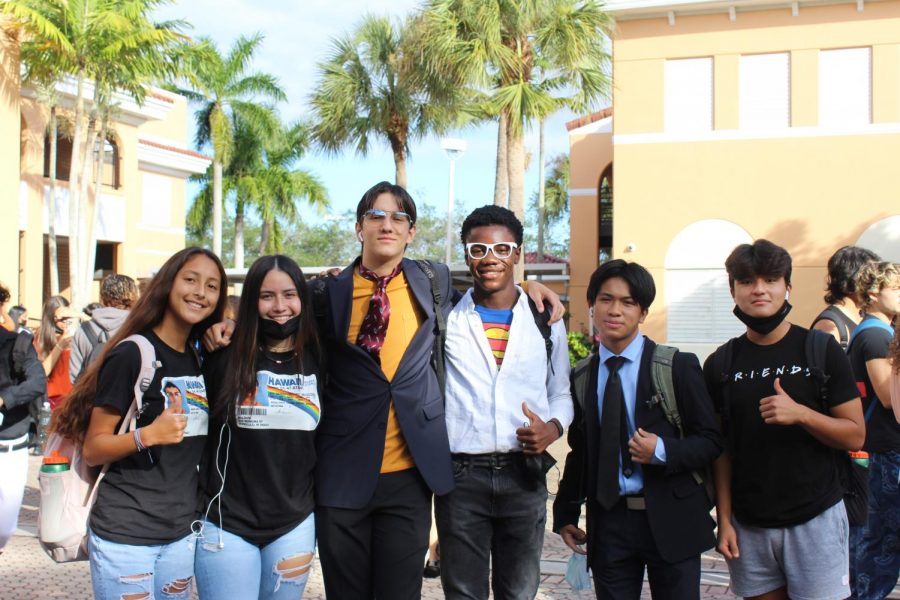 Pine Charter's Fashionable Film Fanatic Day
   A young student wakes up at their usual time, 6:20 AM, and does their usual morning routine: uses the bathroom, eats their daily peanut butter and jelly sandwich, brushes their teeth, and changes into their clothes to go to school. The only difference that day was that instead of changing into their regular uniform, it was a suit and tie with fancy dress shoes. Why you might ask? Well it was film fanatic day at PPCHS! 
   This student who's a junior, Marko Jaric, decided to dress up as Dwight Schrute from the popular sitcom series The Office. This was a hit costume, as the student shares many physical characteristics that made him look almost identical to the character. When asked why he decided to dress up on film fanatic day, Marko said, "I really wanted to dress up that day to show some school spirit. Last year I wasn't able to dress up as we were online, so it made me really want to go all out this year. I already knew what character I wanted to recreate it and everything came together perfectly".
   Not only him but a grand majority of the school showed their school spirit and decided to dress up on the third day of PPCHS's very own spirit week. Costumes varied from shows or movies such as Chicken Little, Rick and Morty, Harry Potter. and Scooby Doo. The students didn't hold back as many of them went above and beyond to try and reciprocate their different characters or actors. 
    During lunch was when these students really came out to impress. Students ranging from freshman to seniors showed off their fits on the walkway provided in the cafeteria. This caused applause, photos, and simply just a great atmosphere to be in. 
   This year's spirit week was an important one as it was the first one back from a whole year of virtual learning. Specifically, this was the first year for sophomores to be able to participate in the much talked about spirit week. Sophomore, Isabella Cely, tells us her feelings on being able to finally do spirit week in school: " I was really looking forward to doing spirit week for the first time this year since I didn't get to do it last year. It was so much fun and a lot of my friends participated too, which made me look forward to seeing everyone dress down each day. My favorite day had to be film fanatic day and I got a lot of compliments for my Velma outfit". 
   Overall, film fanatic day led to many of the students to get out of their normal routine and have some fun at school. Students took advantage of not having a spirit week last year, and they took it upon themselves to show out their costumes. As film fanatic day has come to an end it won't be forgotten at PPCHS.