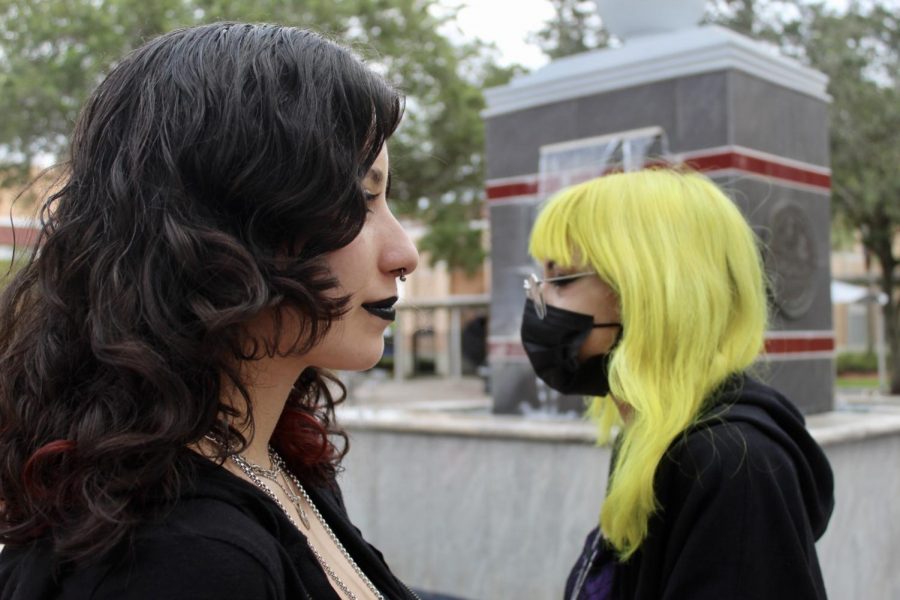 Mask or Maskless? The Decision Challenging Charter
November 16, 2021
   Walking onto campus Monday morning, November 1st, students had a new decision to make; should they wear a mask, or go maskless? With the students' different decisions, Pembroke Pines Charter was filled with students still proudly wearing their masks and others finally letting go of theirs and showing their faces
   Starting November 1st, the Broward County School board officially decided to adjust the mask policy for Broward County high schools. This decision was voted upon on Tuesday, October 26, after changes in local Covid-19 conditions. With this, the masks policies changed in some areas, while others remained the same. 
   For high schools and technical colleges, the use of face coverings was optional but still "strongly encouraged for students, staff, visitors and vendors". Initially, a formal opt out process was required to not wear a mask, but that requirement has been lifted. Mr.Bayer expressed his thoughts with the new mask policy going into effect: "I'm continuing to strongly encourage masks but letting students know it's optional. I'm curious to see what happens and I'm withholding my opinion until I can see the impact it has. But, if the infection rate doesn't go up and it stays the same, we don't need masks as much. I do think it's good, however, that the County is going about this gradually!" As Mr.Bayer explained, the full effect and impact of the new mask policy will take time to see and may lead to future changes.
   For elementary schools, middle schools, K-6 schools, pre-K-8 schools, and pre-k programs located in high schools, facial coverings are still required for students, staff, visitors, and vendors. For these schools, a formal medical exception is required to not wear a mask. Lastly, district sites do not require facial coverings but they are required.
   With this, Pembroke Pines Charter does closely follow the BCPS COVID protocols and decided to adjust their mask policy as well on Monday, November 1st. The new policy in place brought many differing opinions for students. Junior Elisa Ortuzar states,  "I feel like it's a good thing to start getting back to the normal way of living, but I feel like it's too early to be lifting mask mandates, especially during the winter when everyone gets sick. I definitely see more covid cases spiking up soon, so it makes me really nervous that there will be that much exposure at school. I personally would like to keep my mask on, I want to try to protect myself as best as possible". On the other hand, Trinidad Rojas stated, "I'm so happy life is finally becoming normal. I was unsure whether to wear my mask or not but decided not to. I feel safe not wearing a mask". These two decisions are ones many students are having to make.
   Overall, Mrs.Battle and Mrs.Fernandez both reinforced the same idea, everyone has the right to make their own choice. Mrs.Battle explained, "I didn't know what to expect November 1st but was pleasantly surprised people were still wearing them. It's so nice to see students and staff are making their own choices and being supportive of others' rights to". Similarly, Mrs.Fernandez states, "People need to be respectful of people's choices. It is recommended and if someone feels comfortable wearing them, then let them. And, if someone doesn't want to be around someone not wearing a mask, respect that." With so many different opinions and COVID still a fear, the mask policy reinforces the fact that everyone needs to remain respectful and understanding of everyone's decisions and thoughts during these times.
   Other than the masks policies changing, the current COVID-19 protocols are remaining in effect.
   The new implementation of the updated mask policy is still receiving diverse opinions. Its full effect will take time, but the intended result is for cases to remain the same and decrease. The big hope is for life to go back to normal again, maskless and smiles showing. But for now, you make the choice you need to!