A T-Shirt Sale Close to Abby Santos's Heart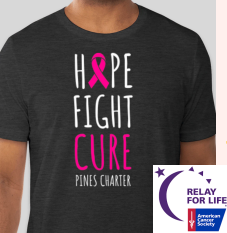 "With both of my grandfather's dying from lung cancer this T-shirt sale hits pretty close to home. So being able to help anyone with any kind of cancer means a lot to me," says sophomore Abby Santos, Media Lead for the PPCHS Relay for Life Team. 
   In the month of October, the Pembroke Pines Charter High Schools club Relay for Life sponsored its annual Breast Cancer Awareness T-Shirt Sale. The club pre-sold breast cancer awareness t-shirts from September 24th until September 28th.  All proceeds will be donated to the American Cancer Society, to assist women suffering with breast cancer that need support. The sale of these T-shirts mean so much to so many people around campus, especially Abby Santos.  
   Santos exclaims that anyone who has purchased these shirts can wear them on any day, because the spirit shirts are approved.  "…these shirts are super cute and can provide a way to spread awareness for this great cause! I think everyone will be very delighted with their shirts this year!" The phrase "Charter Fights Together" is printed in bright pink in big letters on a grey T-shirt with a pink ribbon. The significance behind these T-shirts demonstrates that PPCHS can conquer any obstacle, not just as a school, but as a community.
   According to the website cancer.org, "The American Cancer Society Relay For Life movement is the world's largest peer-to-peer fundraising event dedicated to saving lives from cancer." It also takes action to save lives through groundbreaking research and support 24/7 care for cancer sufferers and provide access to vital screenings for prevention.  As a community PPCHS's Relay For Life Team has come together as a community for years to honor  loved ones while also taking action to save lives. Overall, this T-shirt sale has touched many hearts and has raised money for women struggling with breast cancer all over the world.