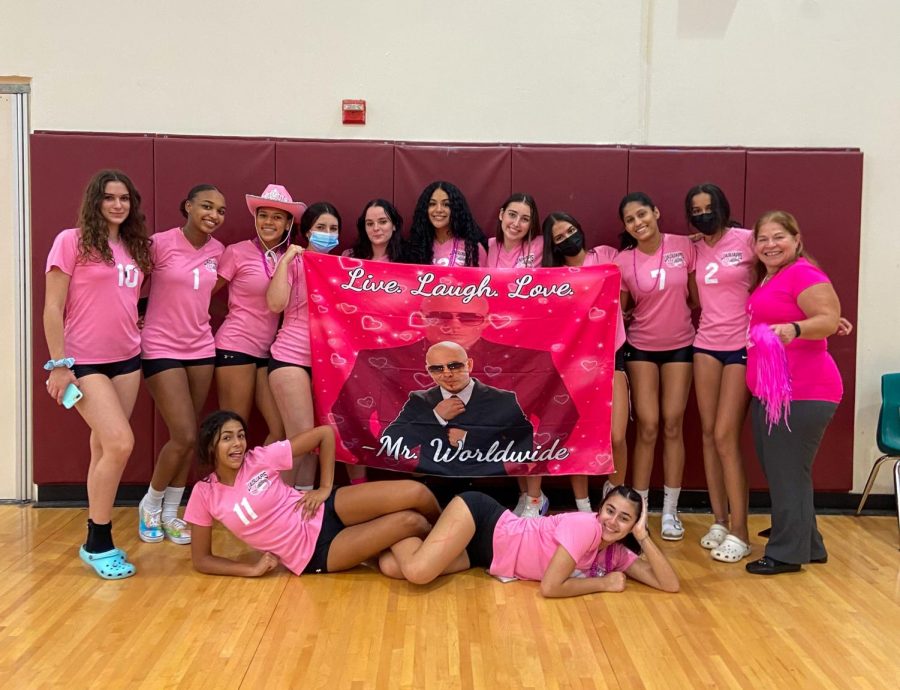 Spiking for Breast Cancer Awareness
October 18, 2021
   Siarah Bencosme tosses the ball up and serves it over. With the satisfying sound of her hand hitting the ball, another game for the Lady Jags is under way. As always, the Pines Charter varsity volleyball team holds the same goal as they do every game: play their game and dominate their opponent. Amidst all this routine, one major change presents itself for this game. Everyone on the team and the majority of the audience were wearing the color pink from head to toe. The annual "Pink Out" game is back and, with audience members allowed back to watch, the atmosphere and volume in the gym was truly more amplified than ever before.
   Every year, Charter holds a "Pink Out" game, showing out in special pink jerseys exclusive for those games. These annual games usually occur around the start of October, as it is Breast Cancer Awareness month. Although it is celebrated nationally, it is especially important to the Lady Jags because of its special connection to someone on the staff.
   Assistant Coach Mary Castillo was diagnosed with breast cancer herself, so she knows exactly how others feel about this month and spreading awareness. After going through it for 21 consecutive years, Coach Mary, called by her players, is proud to call herself a survivor. 
   After this year's Pink Out game victory, she expressed how important these games are to her. "These games bring a reminder to everybody to be aware of breast health," she stated,"Especially because there is no limit on age to be diagnosed, and once you're diagnosed, you need to know how to move forward and succeed." Winning both games this year meant a lot to Coach Mary, as well as the players.
   One of the players, senior Shravya Sareddy, has been playing under Coach Mary for one of the longest times compared to her teammates. She even shared her own thoughts on the concept of these special games. "I feel honored to play in support for breast cancer awareness, especially having Coach Mary on our team," she said, "It makes me glad that we get this opportunity every season."
   Having an entire team support her journey, Coach Mary is blessed to get this chance to coach, inform, and empower these young women on and off the court.