Charter's Hispanic Heritage Week Recap
   The Spanish Honor Society held the Hispanic Heritage Week in the last week of September. With a different theme for each day, many students participated and enjoyed celebrating this special week. 
   To start off the week, Monday was Flag Day. Students wore shirts with the colors that proudly represented their countries. They met at the fountain after school ended, to take pictures altogether. 
   "This year Flag Day was such an amazing experience for me as a sophomore, since last year I wasn't able to experience any of the activities our school is famous for. It was so cool to see how diverse the hispanic community is here at PPCHS." – Valeria Mesa, sophomore
   On Tuesday, students gathered in Mr. Garcia's room to listen to Jeannette Conrado virtually. As the guest speaker, she shared how her Hispanic heritage led her to pursue a career as a publicist for Daddy Yankee, Carlos Vives, and Chino y Nacho. 
   "Being able to listen to what Jeannette Conrado had to say was truly something fascinating. I find it so interesting how she has the opportunity to work with all these iconic hispanic superstars like Carlos Vives and Chino y Nacho." – Mario Idiarte, sophomore 
   "Being a part of Hispanic heritage week and participating in the guest speaker event was a great experience not only for me, but for all participants. We were able to hear about how coming from a Hispanic background influenced Jeanette's career and overall life, which I think as someone who is Hispanic is good to know about." – Emily Idiarte, senior
   The Karaoke Event was a hit. President of SHS Emily Martinez expresses, "We had an insane amount of students show up to this event and the participation was unmatched." They sang all the different types of Spanish Music and they used water bottles, pens, and even textbooks as their microphones! 
   "I really enjoyed coming out and being able to see everyone have a simple yet fun time! Everyone sung their hearts out and we all just cheered each person on. I hope we're able to do something like this again in the future." – Alis Henry, senior
   For Arts and Crafts day, they painted on a mask. The masks had the different flags of Hispanic countries painted. After everything was dry, they tried them on and compared them with one another. 
   "Working at the Arts & Crafts Station with SHS was truly a blast. It was fun to mix artistic elements with cultural pride. I for one got to test my skills, using the Argentinian colors to decorate my mask in a way that wasn't just in the flag's shape. Since I'm not PPCHS's greatest artist, it was funny hearing my friends' humorous remarks." – Raul Lopez, senior
   Finally, on Friday, SHS collaborated with the Latin Dance team for a Bachata Class. Captains Jorge Munoz and Laisha Laracuente led the class and taught the participants the basic steps of Bachata. After that, the participants paired up with friends and danced together. It was a great way to end the celebration of Hispanic Heritage Week. 
   "Helping host the Bachata Class for Hispanic Heritage Week was such a great way to end the week. I always wanted to learn how to dance bachata, so it was genuinely a really fulfilling experience. It was so connecting to partake in a dance specific to my heritage, and I encourage everyone to come out to future events with the Spanish Honor Society, we always have the best time!" -Natalia Matovelle, senior
    "The Bachata Class was run by the Latin Dance Team, it was a lot of fun. I learned a lot of basics that will be great for when I have to dance at family functions." – Michael Ottati, junior
    Ultimately, the celebration of Hispanic Heritage Week was a success. Many students learned about the diverse cultures and did exciting events together. Charter is proud to share all the different Hispanic heritage.
Leave a Comment
About the Contributor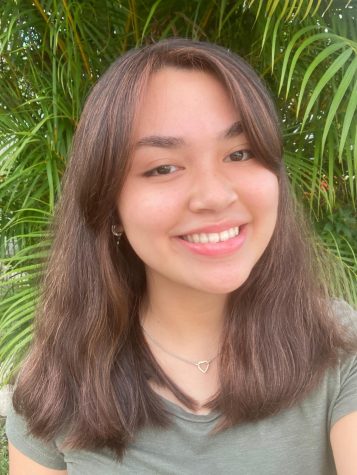 Trisha Villanueva, Staff Writer
Hello everyone, my name is Trisha. I am currently a junior, and this is my second year writing for The CHAT. I love hanging out with Rosie (my dog), my...