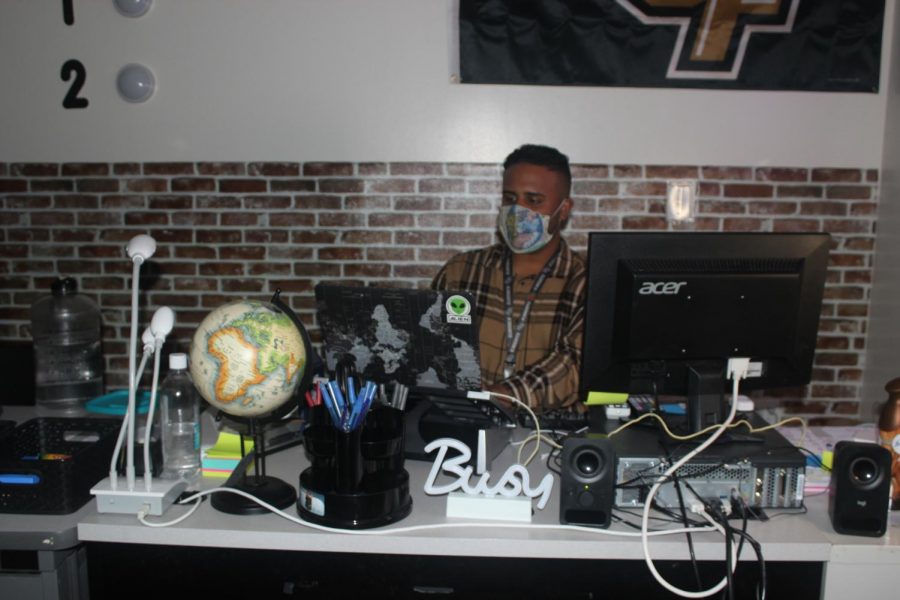 Cristian Sanchez
Q: Why did you choose PPCHS and how has your experience been so far? 
A:  I chose to work at Pines Charter High School because of the culture. I have many friends that either work for charter or attend school here. All the conversations were always positive and I appreciate charter's academic approach to challenging students with rigorous curriculum and innovative learning. 
Q: How has teaching at a new school changed your perspective?
A:  Teaching at a new school changed my perspective for many reasons. For starters, I formerly taught middle school so there is an age gap. I find that most high school students truly care about their academic success and are more independent with their work. From an employee standpoint, I have so much support from our principal, admin, department head, and fellow teachers.
Q: What's something interesting about yourself?
A: I figured with my experience in traveling, I could teach students about history in a creative and unique way. I researched how to become a teacher, applied with the state, took a few certification exams and began my first year in August 2020 teaching 6th grade world history. If there's one thing good that came out of this pandemic it would have to be that I found my passion. 
Q: How long do you plan to stay teaching at PPCHS?
A: I plan to stay at Pines Charter for as long as I can. My goal is to get asked to return for another school year and retire here. 
Q: What are your expectations this year and plans to re-engage students in learning?
A: My strategy to re-engage students to learn is to provide them with innovative lessons that will allow them to watch educated videos, collaborate with other students, have classroom discussions, and be hands-on in a (socially distant) group work environment.
Q: What do you find most challenging/frustrating about teaching this year?
A: The most challenging thing for me this year would be learning all the new platforms and systems, but I am sure I will adjust with time. Thankfully my team, especially Mr. Curry, have been able to help me. 
Q: Do you have any advice for new students this year, since you're a new teacher yourself?
A: My advice to new students as a new teacher would have to be to embrace your identity. Be who you are. People will gravitate to you naturally if you do so and with time you will find your group of friends.
Q: Do you feel any pressure to abide by Covid restrictions while re-engaging your students?
A: To be fair, I don't feel any pressure to abide by covid regulations because this is my norm. I started teaching under a pandemic and I'm just used to the limitations by now.