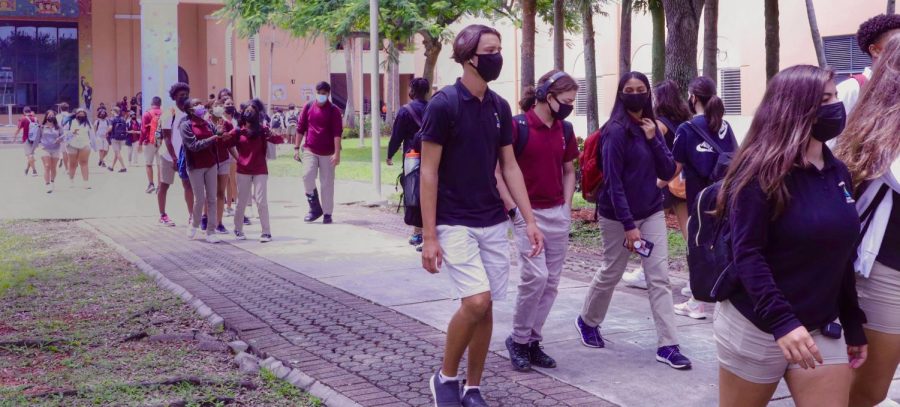 Dread the Delta: The Delta Variant Affecting Schools
   Over a year into the international COVID-19 crisis, the world started to go back to normal but then, the deadly delta variant affected it greatly. Mask mandates and social distancing guidelines were being lifted and a glimpse of normality was back, but it all came crashing down. The delta variant is spreading rapidly and is affecting every aspect of life. 
   Many people ignored the delta variant at first, but now it is nothing to ignore. The variant has caused confusion and panic, and has even led to the thought of having to get a booster shot if you are vaccinated. A third shot is available for those who are immunocompromised and those who haven't fully responded to the first doses. The FDA is yet to approve the booster shot due to the lack of research, but Pfizer hopes to receive approval for people 16 and older.
   People who are vaccinated started to experience what their life was like before COVID, but now the delta variant has even been affecting the vaccinated population. Senior Ashton Banarsi says "It's not affecting them as badly as adults because they're still young with strong immune systems." The delta variant is more contagious and can cause more health problems for people who are vaccinated according to the CDC. 
   In Broward County alone, there were 11,000 new cases in seven days by August 27, and an average of 1,665 new cases every day according to the New York Times.  There are currently 321,000 cases in Broward County and just over 3,000 deaths. Broward schools have reported that 12,000 students have left school due to COVID according to the Sun Sentinel, since the first day of school on August 18. Principal Peter Bayer said, "We have only had about 18 positive student cases since school reopened-and I am happy to report that, thus far, only ONE of those 18 has been a result of a close contact on school grounds."
   With more and more knowledge about the delta variant coming out every day, ways to stay safe are being implemented to make sure school doesn't shut down again.  Principal Bayer believes that Pembroke Pines Charter has the been able to control the virus saying, "It could be the masks, or good hygiene, or social distancing, or maybe a high percentage of our students have been vaccinated. Whatever it is, I hope the trend continues." 
   The same precautions taken for COVID-19 haven't been effective in combating the delta variant. Masks are still required but have been shown to not be 100 percent effective according to the CDC and social distancing is encouraged but is impractical to implement. It is hard to social distance over 1,000 students at lunch and while changing classes. 
   The more contagious variant has already posed threats to local hospitals by filling many up and taking all hospital beds. Now the delta variant has turned its head to Pembroke Pines Charter. Before the school year even started, the entire swim team had to quarantine after one player tested positive, according to Molly Masson, a member of the swim team. Classes had empty seats and teachers didn't know all their students because of quarantine rules from all students affected. Contact tracing can cause students to miss more than a week of school if they were near someone with Covid. The most notable change that has been shown in school is the use of assigned seating to determine who needs to be quarantined in case of a positive test.  
   To combat COVID, Pembroke Pines Charter has created a strict mask mandate and quarantine guidelines. Junior Owen Galvin states, "some of the reactions people get are scary but the vaccine has been good and is helping lots of people."