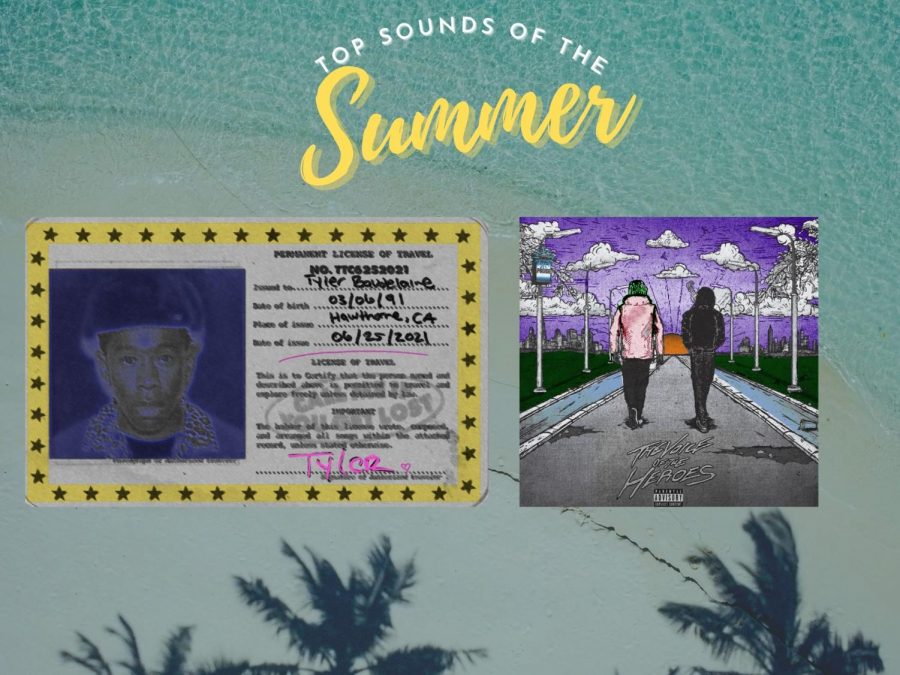 (Our) Summer Tunes
   Other than pushing summer work until the week before the start of school, there is no doubt that students spent this past summer drowning themselves in the newest music drops. If one remembers, we wrote a story similar to this, surrounding the takes of the best albums of 2020. With colorful collaborations and stellar songs, this summer's albums really took center stage as most of these albums were able to be performed in concert! As the new era of music continues to grow, here's our albums of the summer… 
   As done previously with this idea, the album is split into the two main genres that are trending right now: rap and r&b. In terms of rap, the most notable drop had to be the return of J. Cole and his new album, "The Off-Season" which dropped at the beginning of summer. This album really shows Cole's diversity and submitted his claim as one of the G.O.A.T.S. in the rap game. This album features a variety of artists ranging from rap studs such as Lil Baby, 21 Savage, and Bas. This album differs from Cole's previous tapes because this really shows off Cole's raw rap ability and goes deeper into his path to stardom. Songs like a m a r i  and  p r i d e. i s. the. devil are two of the must-listen songs off this album. After "The Off-Season", J.Cole is certainly among the greatest in the game with Drake, Kanye West , and Kendrick Lamar. Shoutouts must go to Lil Durk and Lil Baby for their co-produced album, "The Voices of the Heroes." Who knows what else the rap community has in store for us this year?
   Our pick for r&b was technically considered a rap album, but after noticing the versatility in production and major inclusion of vocal singing, Tyler the Creator's "CALL ME IF YOU GET LOST" was an easy choice for our second pick. Fans were left wondering if Tyler had any chance at topping his album in 2019, "IGOR" because of it's wild success, notably it's Grammy award for Best Rap Album. After two years of blasting hits such as EARFQUAKE and GONE, GONE / THANK YOU fans were ecstatic to hear that he was coming back with another project. Tyler was not afraid to tease the dynamics of his new album, revealing that it wouldn't be a traditional rap album and lots of surprising features would be present. This left fans not knowing what to expect. Even so, Tyler did not disappoint and once again had listeners all over the globe streaming each song on the album. "CALL ME IF YOU GET LOST" included 16 bangers and 0 misses. A few notable hits were WUSYANAME, which featured YoungBoy Never Broke Again rapping over a 90's r&b beat, dropping the jaws of fans when they first listened. Another one was SWEET / I THOUGHT YOU WANTED TO DANCE, where Tyler once again showcased his talent of effortlessly transitioning from one beat to another, creating the impression that it is two songs in one. Tyler the Creator's musical skill has proven time and time again that he is an unstoppable force in the music industry, in more than just one genre.
   The summer was filled with hits left and right, and this comeback from 2020 (the COVID year) did everything but disappoint music listeners everywhere. As every fan's taste differs, one thing can be agreed: The feeling of finally having new music to listen to is back and better than ever.