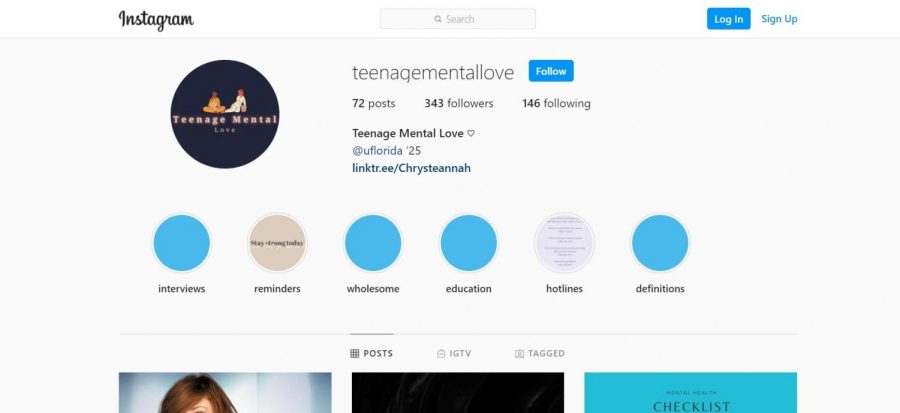 Teenage Mental Love: A Haven Created by Chrysteanah Williams
      For many, their teenage years aren't the picturesque coming of age movie they hoped for. While there are good moments, of course, we can't ignore the tremendous amount of stress students go through. Whether it be from school work, social media, or world events, it is not unreasonable to assume that mental health has been at a decline. One PPCHS senior Chrysteannah Williams has taken note of this and has created an instagram account, Teenage Mental Love (TML), to fight against this growing issue. 
      The account's main goal is to promote wellness and as Chrysteanah expresses, to "show them that they [people] are not alone and they are supported by many." Since its initial release in mid July, TML continues to grow everyday and, fueled by its founder's goal to reach people from different backgrounds and perspectives, is home to interviews with influential members in the world of social media. 
      While Chrysteanah has been successful in terms of interviewing people with large followings, it's evident that TML was created for one goal: help those in need. "From the beginning, I always said that I didn't do it for views or anything, I just did it because it was needed. I promise to myself to continue to stick by that," she said. "Every single week, it expands more, and I just would love to continue working on my interviews and reaching out to more people. But no matter what, I know I do not want to give up."
      As this PPCHS senior enters her final months of highschool, she looks towards her future. With goals to study biology on the pre-med track at a Florida university, her goal to help others remains crystal clear. 
     Teenage Mental Love meets the needs of students today. It offers insight into important mental health matters, encourages you and reminds one of their worth, and most importantly it makes these types of conversations accessible. 
       Check out Chrysteanah Williams' incredible work @teenagementallove on Instagram.