Meet Mrs. Torres, PPCHS' Warrior
February 26, 2021
   While students are stressing about college applications and grades, Mrs. Shannon Torres, a backbones of PPCHS, is fighting a battle many cannot comprehend.
      Shannon Torres is the curriculum specialist, AP coordinator, and Cambridge coordinator and has been a vital part of our school since 2012. Reflecting her dedication further, she is also Charter's Teacher of the Year. She has a presence unmatched among Charter faculty as she expresses strength and poise in her day to day life — one that since February 2, 2020 has been changed by a Stage 2 Invasive Ductal Carcinoma (Breast Cancer) diagnosis. 
  Mrs. Torres was a strong, healthy, and young mother of two, so the news rippled throughout her life and sent shockwaves through her. 
  "I found a lump," she began, "so I knew cancer was a possibility but didn't really think that would be the case at my age."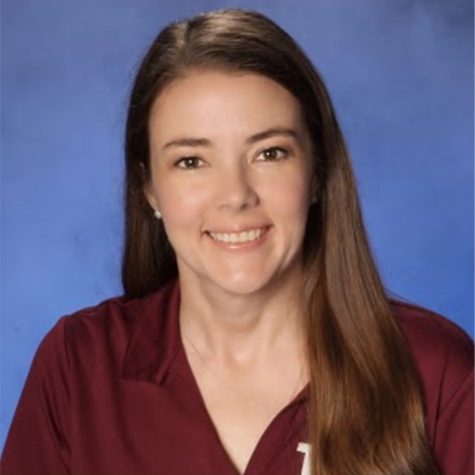 As one year has passed since she was diagnosed, Mrs. Torres has "had a port surgically placed in [her] chest and then completed chemo every three weeks for a total of 18 weeks."
      She shared part of her intense treatment regimen: "I have infusions of two other medications every three weeks, and I'm almost done with that. I also had a double mastectomy in July." 
      All of this taking place in a time where humans are forced to limit their interactions because of COVID-19. Yet, despite the world throwing continuous hurdles at her, Mrs. Torres has continued to fight for herself, her family, and her school. 
     As she deals with the physical shock of her treatments and her circumstance. Mrs. Torres battles more than just cancer cells. "Being isolated at home for so long has taken a mental toll on me, for sure," she says. "It's easy to get depressed or anxious between all of the medical worries and also COVID and everything else." 
     She has taken up the challenge of working for a school during a pandemic, and all the struggles that come with it, but does it from home. Being home allows her immune system a guaranteed form of safety amongst close family and nature. 
      "I spend a lot more time outdoors. I try to take my kids to the park, the beach, anywhere that's safe and allows us to disconnect and spend time together.  I like to read, go for walks, do yoga, etc." 
     Shannon Torres has had her life completely changed in the past year. She has faced immense challenges in ways we all can understand and in ways none of use will ever truly grasp. But despite it all, she knows PPCHS is beside her. 
     "I'm grateful for all of the support I've received. I've gotten countless emails and messages from staff and students, and I really appreciate it. I miss seeing everyone and can't wait to be back. I never thought I'd miss standing in the cafeteria!"
     Shannon Torres emits hope and positivity, but she still wants people to know never to take health for granted or dismiss it. "I also want everyone to know how important it is to pay attention to your body and what you're feeling.  Don't ignore unusual symptoms or things that just don't seem right. Pay attention! Get to the doctor! It could end up saving your life."
      To Mrs. Torres, we thank you for all the work you have put into our school and send out our gratitude and appreciation. We understand that this must be a difficult battle, but know it's one where we all stand behind you — with our collective strength, support, respect, and love.