Chaos at the Capitol: America's Seat of Democracy Attacked
     Protest, riot, insurrection, act of domestic terrorism… whatever they're being called, the events that took place on Capitol Hill on January 6, 2021 were historic. Mobs of people, some armed, stormed into the Capitol Building, interrupting a joint session of Congress counting electoral votes and attempting to certify Joe Biden's win in the 2020 presidential election.
      Participants of this demonstration included Trump supporters, neo-Nazis, white supremacists, and other right-wing and far-right activists. Some were spotted wearing clothes that donned the phrase "MAGA: CIVIL WAR" and the date of the attack; January 6, 2021, while others wore Nazi paraphernalia. Sweatshirts reading "Camp Auschwitz" and "6MWE," which stands for "6 million wasn't enough" in regards to the death count of the Holocaust, were also spotted.
     Sophomore Joziel Fuentes expresses, "what [those people] did was not funny nor cute. It isn't cool to make little of [the Holocaust], ever. However… I'm going to add… there were a lot of patriots [at the Capitol] who were extremely upset at the disappointment of this election."
     The crowd marched from The Ellipse, where Trump was holding a rally in front of the White House, and descended onto the steps of the U.S. Capitol Building at about 1:00 pm in a series of events that will forever be etched into the minds of Americans.
As the violence started to escalate, multiple buildings in the area went on lockdown, including the Capitol, and Congress was forced to go into recess. Members of Congress and Vice President Mike Pence, who was presiding over the session to certify the election results, were evacuated as the mobs came closer and closer to the chambers (Forbes).
     Outside the chambers, rioters continued to force entry into the Capitol building by smashing through windows and doors. By this point, the scenes in and around the building were utter chaos, which sophomore Trinity Tang called "shocking, disappointing, and disgusting." Mobs of people destroyed and desecrated statues and other historical artifacts that are housed in the building, trashed the Great Rotunda, and committed countless other acts of federal property damage (Business Insider).
     Sophomore Jake Taylor, a supporter of President Trump, expresses that, "I think that [the events at the Capitol] should have never happened… I think that this building should have much, much better security and should have been reinforced… They should keep an abundance of security there at all times so this never happens again."
     While this attack was happening, social media erupted, especially Twitter, which was used by people inside the building to show the rest of the world what was going on. Politicians, including President Trump himself, attempted to address the situation and the demonstrators.
     People inside the Capitol used their phones to share vital photos, videos, and information, including footage that displayed the mob of demonstrators wreaking havoc (BBC).
     Many members of Congress tweeted about their status of safety in real time, and later used the platform to denounce the acts of violence and call for President Trump to do something.
     At 2:38 pm, Trump told his supporters to be 'peaceful' and to 'support our Capitol Police and Law Enforcement,' in a tweet as the violence continued to escalate. About 30 minutes later, he reaffirmed his previous tweet, asking his supporters for 'No violence!" An hour later, he tweeted a video message that condemned the violence and disorder of the riot and told his supporters to "go home," but sympathized with them, saying "We love you. You're very special" and that he knew their pain over losing in a "fraudulent election" (NPR).
      Trump continued to tweet about the events that took place on January 6, and his accounts on multiple social media platforms were subsequently suspended–including Twitter and Facebook– later that week for what was dubbed "Glorification of Violence." However, before this, he was able to tweet that he wouldn't be attending President-Elect Biden's inauguration, which also drew mixed reactions from pundits and his supporters (Twitter).
     Trump supporters also rallied together online claiming that the insurrection wasn't over. One user on Parler, an app popular with conservatives and right-wing extremists, stated, "Many of Us will return on January 19, 2021, carrying Our weapons, in support of Our nation's resolve." As a result of such threats and a high level of concern, security at the inauguration on January 20th will be extremely tight, considering the security failures on Capitol Hill (NPR).
     As a result of the under preparation at the Capitol and the extreme violence of the rioters, five people died, including Capitol Police officer Brian D. Sicknick and unarmed Trump supporter and rioter Ashli Babbitt, who was shot.
     Despite not taking a clear side politically, freshman Kaitlyn Jorgensen denounced the violence, saying that "[it] was horrible and the protestors should've gone about it in a different way; a more peaceful way. The right to protest is a key American value and these people have the right to share their opinion, however, they need to do it in a way that does not harm others…" There's also an indefinite and growing number of arrests and injuries reported as more people are identified (Wall Street Journal).
Following the attack, Senators and Congressmen from both the Republican and Democratic parties condemned the acts that happened earlier that day, and many placed responsibility on Trump for instigating the attack. Some even called for VP Mike Pence to invoke the 25th amendment, which would allow him to remove an unfit President Trump from office.
     Freshman Sonia Ally agrees with this sentiment, stating that "Trump has created a following that puts the country in so much danger. It has gotten too far at this point, and there might not even be another option but to invoke the 25th amendment."
     The Vice President decided not to invoke the 25th, saying: "I do not believe such a course of action is in the best interest of our Nation or consistent with the Constitution" in a letter addressed to the Speaker of the House. House Democrats subsequently proceeded with bringing forward articles of impeachment against the President, and he was impeached by the House of Representatives for the second time, with a 232-197 vote, marking yet another unprecedented event this week (The Hill).
     As the country reels from the impacts of the unforgettable attacks on both the U.S. Capitol and a democratic process, it's evident that America is more divided than ever. But there's one thing every American can agree on: this madness and chaos must end.
Leave a Comment
About the Contributor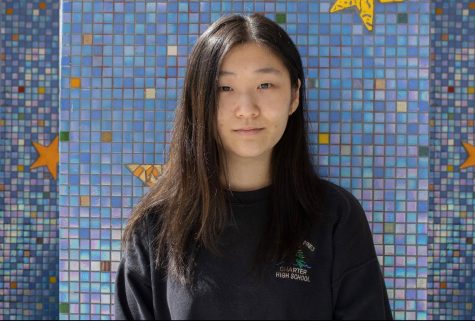 Rebecca Lim, Editor-in-Chief





Hi, everyone! I'm Rebecca, a senior, and I am so excited to lead our amazing staff this year as the Editor-in-Chief of the C.H.A.T. Newspaper....