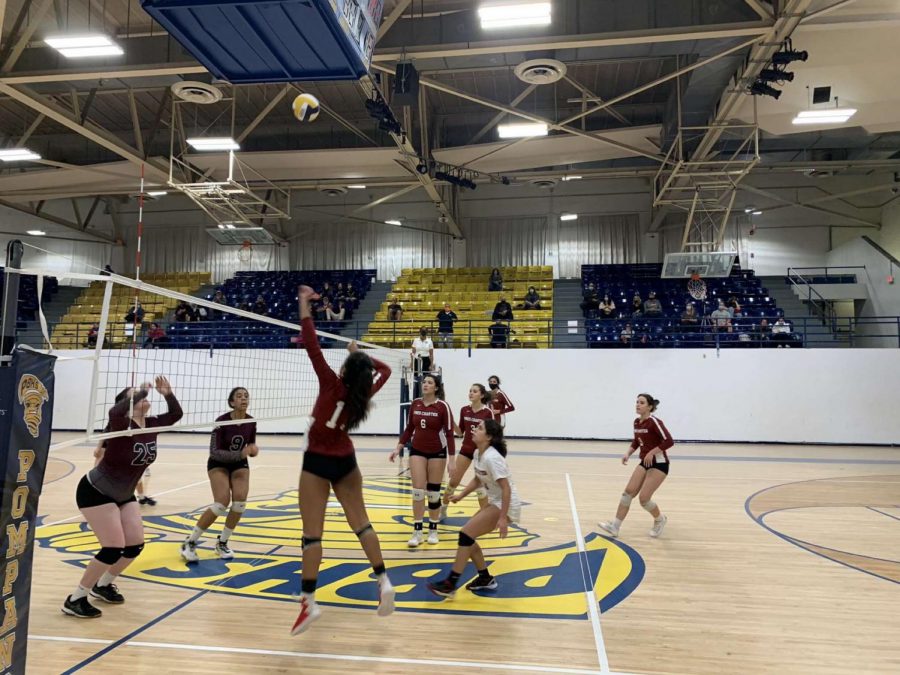 Lady Jags Bring Home BCAA Big 8 Championship
  The past few weeks have been an extremely competitive journey for the PPCHS girls' varsity volleyball team. Ending their regular season after losing a single game, they headed to the BCAA Big 8 tournament with high expectations. This tournament includes the best teams in the county, including West Broward and Cypress.  
  The games began on Monday, December 7th, where the Charter team faced Cooper City, who held a intimidating 5-2 record. Although the Lady Jags took a big lead in the first set (25-17), the Cooper City Cowboys put up a fight in the second (26-24), pushing the game into uncharted third set territory. Undaunted, the Lady Jags fought hard and ended the game strong with a score of 17-15. 
  The last day of the tournament took place on Tuesday, December 8th, where the Jags faced the undefeated West Broward Bobcats in the semi-final round. The Bobcats took the first set, 19-25. Keeping high spirits, the Jags entered the second set with an abundance of energy and a changed mentality. Pushing for every point, the team won the second set 25-17, entering contentious third set territory once again. 
  Senior Co-Captain Paula Lillquist states, "It was a bit scary knowing that if we lost, it would all be over. I think the main difference we saw in between all of our sets was our attitude. In the beginning of the second set, everyone was talking, cheering, and hustling for every single ball." 
  Although the Bobcats did put up an impressively difficult fight, the Jaguars broke a once perfect record, winning 15-12, and advancing on to the final round against the Stoneman Douglas Golden Eagles. 
  The Lady Jags had previously beat MSD during the season on their senior night, so the Eagles were out for revenge. The game started out strong.
  The Lady Jags fought throughout the first set and took it 25-20, with the advantage guiding them into the second set. The second set came close, however, as the Eagles kept catching up to the Lady Jags with a tight score. 
  In the end, the Lady Jags stood strong, taking inspiration from each other and their earlier performance, and continued playing hard to end the game and win the championship. The triumphant PPCHS girls' varsity team closed out the game by winning the second set 25-20, and the rest was history. This marks the first time ever that PPCHS has even moved past the first game in the tournament, much less won the entirety of the event, which truly makes this victory like none other.