Now You See Me, Now You Don't
A Thanksgiving Journey
   The car ride took 24 hours. Katherine Montoya, a freshman, attended class on Zoom most of the journey, occasionally sleeping or talking with friends, but the most enjoyable part for her was stopping, after 14 hours, in New Orleans, Louisiana, one of her favorite places to visit. After resting there, she and her family drove another 10 hours to San Antonio, Texas, to celebrate Thanksgiving with her brother, his wife, and her family. To Katherine, that was her favorite part. 
   When Katherine and her family pulled up the hill where the beige two story house resided, she felt the hair on her arm raise. Finally seeing her brother, who recently got married and who is in the Navy, made her heart dance. It has been almost three months since their last interaction, and she was thrilled to meet their new baby as well. It would be her niece's very first Thanksgiving gathering. 
   When Turkey Day arrived, Katherine's sister-in-law and her family provided a large meal consisting of turkey, of course, ham, macaroni and cheese, potatoes, rice, gravy, bread, and other various foods. Before eating, they carried out their usual Thanksgiving tradition by saying grace and then going around saying what they were thankful for. 
   But when it was time to dig in, Katherine only ate the macaroni and cheese and ham, neglecting the other scrumptious meals. "I have always been a picky eater," she said, "My entire family always makes fun of me for eating only three things." Nevertheless, she loves and appreciates them and says it was worth seeing them in-person rather than online. 
   She was used to seeing her brother every day, so not seeing him for what seemed like forever to her was memorable. Additionally, since he is in the Navy, he might be moving to California further limiting the number of times they'll see each other.
   Katherine says there's something special about seeing her family on the annual holiday. The grateful spirit in the air along with love, family, inclusiveness, and the amazing food, is something she will always remember and cherish. "My family loves me," she says, "And I love them for that." 
Thanksgiving from Afar
   Laptop opened. Camera focused. Microphone checked. Battery level looked great. Freshman Coralie Richardson was now equipped to Zoom with the rest of her family and enjoy Thanksgiving together. Joined with her mom, aunt, older brother, cousins, and grandparents, Coralie was able to see her other relatives who were connecting with her from Georgia, New York, California, and Haiti.    
   It has been two years since Coralie saw her out of state relatives and to her, it was wonderful to reconnect with them. She was clearly exhilarated but also relieved to find out none of them were infected from the COVID-19 virus. "It's a beautiful thing," she said, "to be able to wake up another day and see my family as others are less fortunate. I'm thankful for that." After the small online reunion, it was time to stuff their faces. But before they ate, they said their family prayers and passed the food around. 
   On Coralie's half of the Zoom, ham, shrimp, corn casserole, salad, scalloped potatoes, rice, and more was served, all being homemade and having a Haitian twist to them. Coralie made a lobster that she crowned as her favorite and described it as "absolutely delicious." On her relatives' half, similar food with their own twists were handed around. Once they took their first bites, they began to talk, laugh, and enjoy themselves. 
   However it wasn't easy at first. They had a lot of catching up to do, but with everyone talking at once, it was impossible to hear the person next to them. "It was chaotic," Coralie chuckled. Before long, though, it became easier to talk to people and they began to settle in. 
   After the meal, Coralie and her family ate dessert, having Bundt cake and ice cream. Additionally, they played online games, such as Kahoot, Among Us, and Roblox, so the time was well spent and entertaining, even though they weren't with each other.  After, they even planned their next reunion- Christmas.
   Coralie admitted seeing her family in-person to celebrate would have been more fun, but she appreciated the time she had spent with them. "After not seeing them in years, I felt elated to experience the time we had together, even if it was over Zoom," Coralie stated. "Hug your loved ones and tell them you love them." For the rest of the night, her family from both sides of the screen shared stories, played games, and got a kick out of their Thanksgiving Day.
Leave a Comment
About the Contributor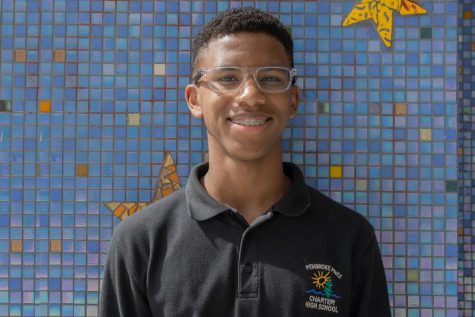 Daniel Morrison, Copy Editor
Hey! My name is Daniel Morrison, and I'm a junior here at Charter. This is my third year writing for the CHAT and my first year being the CHAT'S Copy...