Cooking with the CHAT
A Jablonka Spin on a Familiar Classic
   Walking through the halls on the right side of the U-building, sitting in room U232, a kind, football coach, and even taco enthusiast can be found. Once Charter alumni Jablonka himself, he spread his wings and started a new journey in FSU. Though once he graduated his life came full circle and he transpired back to where it all started. Through the positive influences of his own past social studies teachers he decided he wanted to be that influential figure for his own students. He has also said that " history is written by the winners" and it is part of the reason why he believes the topic of World History is so interesting. His impact on the school extends beyond the classroom. Not only did he play an essential part in the ppchs football team during his high school years, but is now the assistant coach for the team. 
   With all of these activities that Jablonka faces daily it is important to pencil in some relaxation and destress time. Introduced by his mother, he says "Tacos are a great way to destress at the end of a long day and part of the reason why I like them so much is because you can tell alot about a person by the way they make their taco." A messy taco could mean that the person making it does not mind disorganization while a clean perfect taco constitutes a person's need for organization and having all the toppings placed in a neat way. A clean cut taco is Jablonka's preference which can be seen when he makes his famous pineapple, shrimp tacos partnered with a nice creamy jalapeno sauce. Below you will find the ingredients as well as all the steps to recreate this tasty taco and make sure to watch the video below to see Mr. Jablonka make it too!
Ingredients: 
– 1 1/2 pounds Shrimp 
– 2 tbsp Olive oil 
– 3 cloves Garlic 
– 2 tsps Chili powder 
– 1 tbsp Soy sauce 
– Salt + pepper to taste 
– 2 cups Pineapple chunks 
– 1 Jalapeno 
– 1/2 cup Greek yogurt 
– 2 Limes 
– 2 tsps Honey 
– 1/4 cup Cilantro 
– Shredded Cheese 
– Flour Tortillas 
Instructions: 
– For the shrimp, throw into a bowl and toss with 1 tbsp olive oil, 3 cloves garlic, 2 tsp chili powder, 1 tbsp soy sauce, and a pinch of salt and pepper.  
– Then, put your skillet on medium heat, throw in about a tbsp olive oil, then cook the pineapple for a few minutes until it starts to simmer. 
– Once it starts simmering, throw in the shrimp and cook until you see the shrimp starting to turn white, this means they are cooked through. It should be about 7-10 minutes. 
– To make the sauce, de-seed the jalapeño. Add the 1/2 cup yogurt, 1/2 jalapeño, juice of 2 limes, 2 tsp honey, and 1/4 cup cilantro into a blender. Blend until smooth. 
– Once the shrimp and sauce is done, serve with your favorite taco toppings and warmed tortillas. 
   Click the link below to create this tasty treat with Mr. Jablonka himself! 
Leave a Comment
About the Contributor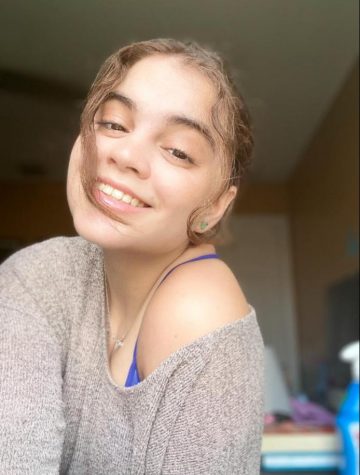 Camila Escobar, Arts & Entertainment Editor
My name is Camila Escobar, and I am in 12th grade. I am currently a staff writer for The CHAT. I love watching Netflix and dancing. I dance on the school's...