Screaming out Loud: COVID Edition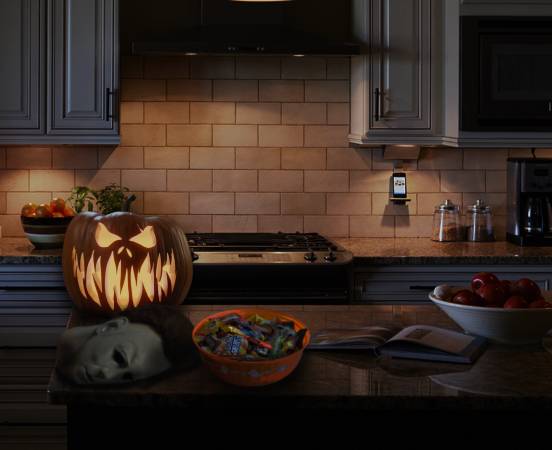 Halloween was a bit different this year, as everyone had to get creative. Some carved pumpkins or baked cookies, while others went to drive-bys or theme parks. People have been required to take many safety precautions but that doesn't mean we didn't still keep the spooky spirit alive.
   Amidst the pandemic, many were determined to make this the best Halloween yet, so they did and they did it safely. For example, staying in and having a movie night with the family. They did activities like baking cookies and carving pumpkins without the worry of having to wear a mask or any social distancing in lines. They decided to spend the night safely with family and friends.
   Those who didn't want to stay in decided to go to drive by haunted houses, a nice safe way for some scary fun. "This haunted house allows you and your friends and family to get scared and have fun without the worry of getting too close to anyone. "You stay in your car and cruise through pumpkin-filled lands of tombstones and candy for roughly 25 minutes. Masks are required if you keep your windows down" (USA Today). Not only will you get the chilling haunting experience, but it will be in the comfort of your car.
   Moving on from the drive by we make our way to theme parks. For example, Busch Gardens hosted its annual Howl-O-Scream but with new safety measures. Senior Krystal Cruz gives her thoughts on it, "They did not host any haunted houses, but they did a great job on their scare zones. The scarers were properly social distancing, it was not too crowded either. They did still host their famous "Fiends" show which was amazing. Outside, I felt very safe and away from huge crowds." Theme parks surely were responsible for some of the fun this Halloween.
   Staying on the topic of theme parks, we move on to Orlando, where Walt Disney World's Magic Kingdom canceled their annual Mickey's Not So Scary Halloween Party for 2020. "To bring some Halloween party fun into the park this year, for the first time, guests of all ages were allowed to wear their funniest, Disney-ist, most creative costumes during regular operating hours from Sept. 15 to Oct. 31. As an important reminder, costume masks are not permitted for adults; only children younger than 14 years old are permitted to wear costume masks." (DPB) Although there was no party, guests that visit from Sept. 15 to Oct. 31 can dress up in costumes, get specialty food, drink and merchandise options, and these Halloween-themed cavalcades. 
   Hotels also decided to join in on the fun. Junior Emily Abella says, "The hotel that I was staying at, The Coronado Springs at the Grandestino Tower, had a fake grass lawn area, where they played the movie Hocus Pocus on a projector. People could go outside with pillows and blankets to watch it and they had bags of candy to give out." Hotels tried their best to give their guests the best Halloween.
   Although this Halloween was unorthodox this year due to the pandemic, there is no doubt it will go down in history, as some of the most memorable, innovative ways to celebrate this spooky holiday were used.