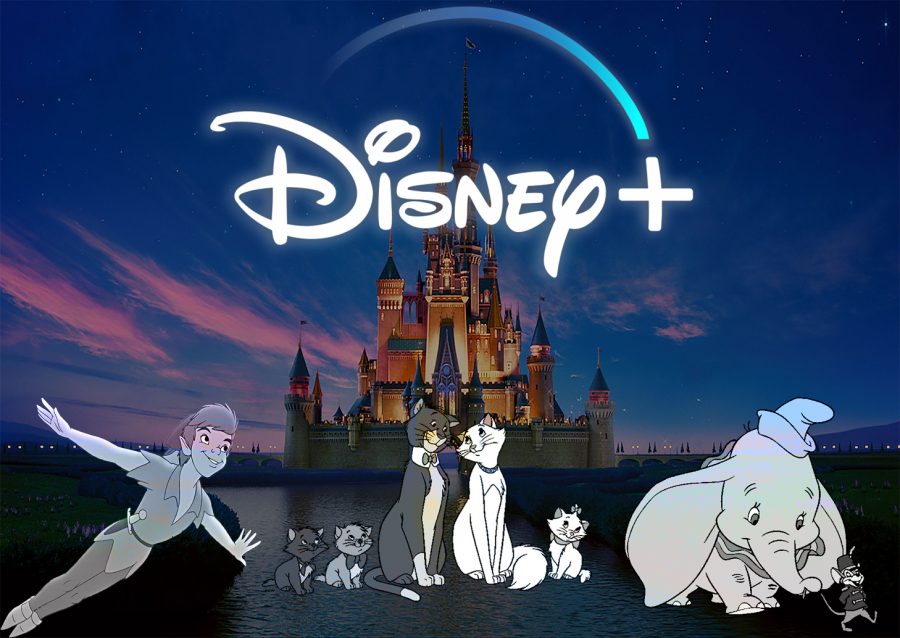 Graphic by: Dominick Zarcadoolas
The Disputed Side of Disney
   Disney Plus has been a huge hit over the last year, but something new has surfaced—or something old . Disney Plus has added a new feature, a warning screen before viewing certain films, calling out racism and harmful stereotypes. The message lasts for 12 seconds, alerting watchers that viewer discretion is advised. It seems a bit odd for a streaming service with so many young viewers… 
   Several movies and shows bear this unskippable content warning, which states, "This program includes negative depictions and/or mistreatment of people or cultures. These stereotypes were wrong then and are wrong now. Rather than remove this content, we want to acknowledge its harmful impact… Disney is committed to creating stories with inspirational and aspirational themes that reflect the rich diversity of human experience around the globe" (CT). Disney decided not to take the racist content down but rather allowed subscribers to get a better understanding of what they may be watching.
   Disney Plus has added these warnings for some beloved films including Dumbo, Peter Pan, The Aristocats, and Donald Duck cartoons. Although they had good intentions, this can be a bit controversial considering they have very young viewers. Senior Khaira Kure states, "I think it gives a negative [view]… even though kids should already know better, they shouldn't learn a negative habit and only be told it's wrong." They should be shown that things are 'wrong' in a more direct way; if there is a "wrong stereotype" within the content, it should be completely removed, since younger viewers can get the wrong impression.
   Another example of this can be the movie "Song of the South," which is full of harmful racist stereotypes but has characters that are featured in rides at the Disney parks. Back in June, Disney announced the refurbishment of the Splash Mountain rides at Disney World's Magic Kingdom and at Disneyland in California; the characters will be replaced with characters from Princess and the Frog, which features Tiana, the first Black Disney princess. 
   While Disney Plus has gotten some backlash for this new feature, others view it as a knowledgeable take. Sophomore Xavier Lewis states, "Warnings in Disney content are good for the people watching because it informs the watcher that there are instances in the show or movie that may offend someone. It alerts and allows viewers to pick and choose what they may enjoy without the worry of being offended." With this, everyone can be happy, without the worry of feeling insulted.
   Now that you've heard both sides of the story, what's your take? Next time you see this message on your screen before viewing a fan favorite, think about how you'd feel if your kids grew up having to deal with being offended over racist stereotypes about themselves or their cultures.