Running For Office
October 1, 2020
 Every year, new class officers for the different grades of high school are elected. Each of the student's running promotes themselves along with what they are willing to do and achieve if they become elected for their position. Junior Lily McCormick has all the experience needed when it comes to running for office.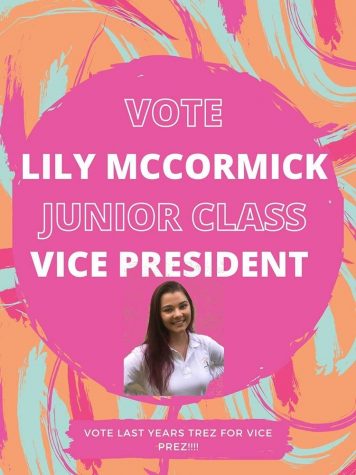 During her sophomore year, she ran and was eventually elected for the position of Class of 2022 Treasurer. During her term as Treasurer, she was able to raise money in many successful ways. From bake sales to shirt and jacket sales and their class trip, Lily was able to successfully fundraise in order for the Class of 2022 to be able to participate in other fun activities throughout the school year. 
   Lily states how "our class really helped out a lot with participating in everything we managed to do" which helped them be able to thrive while fundraising throughout the year.
   This year however, Lily ran for Vice President. She states, "I went out on a limb and risked my position so I could be VP. I ended up winning the election [and] now I am Vice President alongside my amazing President Stella Dioguardi, and the best sponsor ever, Ms.Salazar." As now being Vice President during junior year for the Class of 2022, Lily makes it a priority to take action, continue raising more money, and have the best junior year possible. 
"Nothing will hold us back and we will safely work together to create the best outcome for the class of 2022!" Lily expresses.