Alternating Hairstyles during Quarantine with Kaitlyn Albino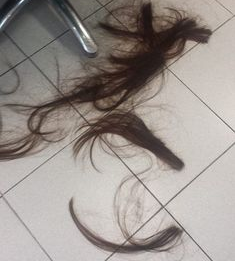 As time goes on in quarantine, many are looking for ways to keep themselves entertained, from developing a new hobby to changing their appearance in a unique way. The latter holds especially true when it comes to hairstyles, and during this time people have been giving themselves bangs, short hair, or even just a new style. Junior Kaitlyn Albino is one of these people, and she has recently trimmed her own hair. 
  Kaitlyn cut off five inches of her hair. "It was getting at a length I didn't like," she begins. "I had some split ends." For her, cutting her own hair is part of a normal routine that was not about to stop due to isolation in quarantine. She has a personal preference for short hair as well, and does not regret cutting it in the slightest. "It's much easier to maintain," she explains. Kaitlyn believes her new hairstyle looks better as well, and is happy with the final product. 
  Right now is the perfect time to alter or experiment with a hairstyle! This holds especially true if it is something that you may have always wanted to try. It presents the perfect opportunity with little repercussions if things do not go as planned.
Contributions also made by: Khaira Kure (YB)