Salonee Singh Shows What Success Is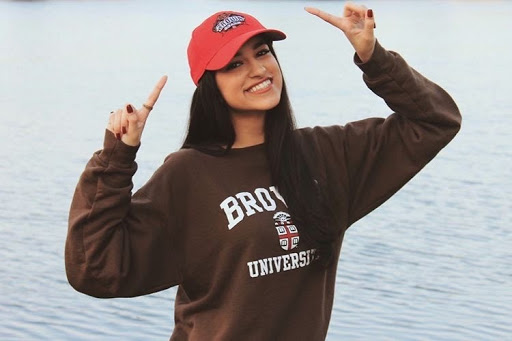 How does someone describe their highschool experience? Do they measure its success based on the colleges they got accepted into? What about their achievements? Salonee Singh is nothing short of impressive in both areas, but perhaps what makes her highschool career such a successful one is the person she has become and how she uses her passions to drive her forward.
   Throughout highschool Singh was an active member in the Charter community and was probably best known for her place on the debate team. "My most proud moment was the Regional Debate Tournament in February, where 10 PCD members qualified—a record high! It was also my first time championing a tournament and I got to do it alongside my friend Michael, who also championed in his event!" she expressed. "Of course being regional champions was incredibly humbling, but it was the pride of being with my small yet unbelievably amazing team and knowing how hard we work that made that day infinitely rewarding." 
   While it was moments like these that set her apart from other college applicants she reflects on how it was the lessons she learned from these moments and others that really influenced her. When dealing with the frustration that comes with competing against private schools that usually have better resources or multiple hired coaches, she is thankful for Ms. Schwab, who was always pushing the team to improve and made Singh realize the importance of preparation and research. It was times like this where she learned to ignore any self-doubt and rather persists toward her goals. 
    In the fall of 2020, the current highschool senior will be entering Brown University as a freshman majoring in International and Public Affairs with a focus on a track in security and intelligence. A choice that was incredibly easy for Singh, when she considered the advantages that the Ivy boasted: research opportunities, a broad range of courses, no GPAs, and perhaps the most appealing aspect, no course requirements. With this freedom that comes with being a student at Brown she also plans to learn French and become politically involved on campus. While her acceptance has much to do with her achievements, much of it can be attributed to her attitude and goals. 
  Brown saw in Salonee Singh the very reason as to why she is so accomplished and not the accomplishments themselves. She comments that "I think growing up in a world with an unprecedented level of international instability pushed me to want to be educated in all kinds of foreign matters: war, trade, culture, environmental issues, and human rights. I also think doing debate strengthened my passion for engaging in complex dialogues and negotiations." Her actions are not fueled by the need for recognition and approval but rather love and an interest in knowledge itself. These are further supported by her personal goals which are to "live abroad, learn new languages, understand various cultures, and develop the skills needed to be of assistance in finding collective solutions to global issues."
   Salonee Singh embodies the school's motto of "college, citizenship, and community," but despite her impressiveness she still wears a humble attitude that only wants to help the surrounding world. As she moves on to the next stage of her life, the CHAT is excited to see where she goes!