Coach Marc Roars Through 2019-20 Season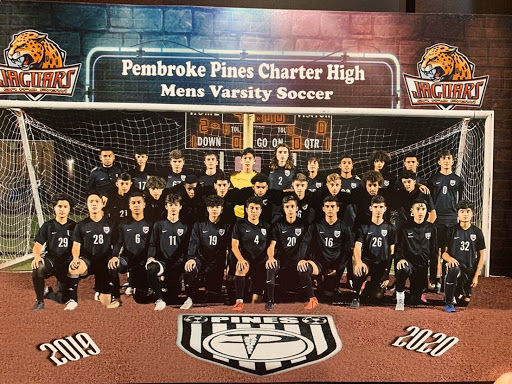 The 2019-20 soccer season for the Pines Charter Jaguars was a successful one. It was led by coach Marc Lue Young, after the previous coach Alvin James left after six years of winning seasons at Charter. New coach Marc, led Charter to their first state championship game in Charter history. That is terrific for a first-year high school's first season. 
  Marc Lue Young is a well-respected Jamaican coach who has been coaching many clubs around South Florida. As of now, he coaches a well-known local club called Miramar United Elite in Miramar. There, he coaches numerous amounts of student-athletes who attend Charter and play for the team. One of them being junior captain Matthew Gordon, "I knew Marc personally and I knew he was a good coach and that our squad was talented. We for sure had what it took to win Charter's first soccer state championship, and when we found out about Marc, it was an added benefit."
  As shown, there was already pre-existing confidence flowing from the team which was started by the captain. There was no difference in energy when coach Marc was asked about how he felt when he received word that he would be coach,"When I found it that I would become the coaches of the PPC boys soccer team we were excited at the opportunity of coaching at one of the best schools in Broward County and coaching a high school soccer program that was known for success." He added, "We felt that the team would get along fairly well. Our captains, Mateo Hernandez and Matthew Gordon would do a great job of keeping the team cohesive and motivated." Confidence flooded the whole team during this historic season. 
  With his passion for the game, and his high-tempo energy, Marc Lue Young led the jags into their best season in history. His crazy style of coaching inspired players, parents, and fans at the Charter School. In the future, Marc hopes to bring Charter a state championship in the coming years. All he wishes for the school is SUCCESS.