As a 2007 high school graduate, Domonique Worship was still figuring out what she wanted to do in life. However, with guidance and a trip to a law firm in New York, she realized she wanted to pursue a career in sports and entertainment. With decisions falling into place, Worship got to experience once-in-a-lifetime events and interactions that many people will never be able to say they got to encounter. One thing about Domonique was, and continues to be, her willingness to try something new and different, a challenge. 
Pembroke Pines Charter was a big part of building up Domonique's confidence. She met many talented and uplifting people, like Ms. Phelps, who had given her support. Worship also gained an immense amount of skills and took her first step in achieving her future law career. Thinking back, Domonique could not contain her smile when saying, "The mentorship, guidance, and support from teachers and faculty [was helpful], they saw something in me I wasn't able to see in myself yet." 
After some years of growth, a recruiter from the NBA arbitrarily offered Domonique a job. In a life-changing moment that left her speechless, Worship describes it as "my dream role, it was exactly the job that I had envisioned for myself." The recruiter informed her it was a legal and business affairs role—the selling point for Domonique. Many phone calls and interviews later, she became a part of the NBA family. She would later on be invited to events from brands such as Nike and Mitchell and Ness, which would showcase the work she has done for them.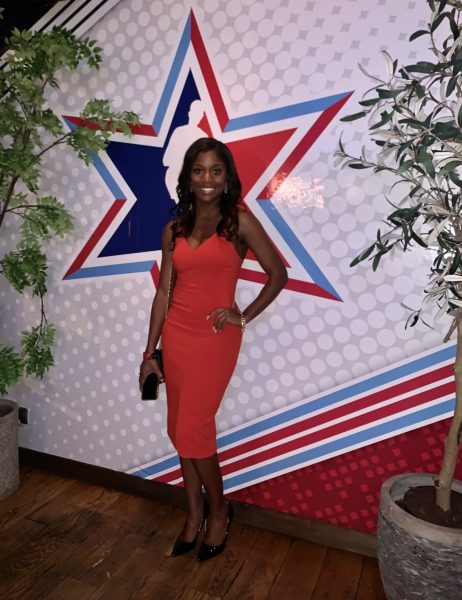 Once the celebrations were over, it was 'go time' for Worship. She started well and had an open mind; however, it wasn't exactly how she planned to begin her law career. Deep in thought, Domonique opens up, "I was really unhappy and unfulfilled in the beginning and the [job] didn't feel like success to me." When she was younger, Worship always had a vision for her future, but as she got older, she slowly realized that it might change. She now highly encourages, "If we are set on one thing, we get tunnel vision and miss out on other great things. Allow yourself to explore and see what happens." 
Worship gave herself some freedom. During this time, she was a lawyer at the firm on Wall Street, a lawyer for the NBA, and had another role for the NBA as "the Head of Diversity and Inclusion." Work after work, everything instantaneously became high-intensity, fast-paced, and stressful. She took control of everything and started becoming well-organized. With ideas in her head, she remembers one thing, "Traveling for me is like my happy place, I love traveling, so I made sure every few months I took time off and traveled to see family or a place that was on my bucket list." From monthly traveling, meditating, and journaling, Domonique creates a routine to balance her hobbies with work and be stress-free.
As of today, Domonique still meets more inspiring people and mentors. With more moments of reflection, Domonique shares, "A mentor of mine at the NBA, she's a brilliant woman … shared that she still deals with imposter syndrome. She still feels like she doesn't belong or [has experienced] some things I have experienced in my career. It helps normalize it for me, makes me feel less daunted." From this interaction, Worship gained a new perspective: she realized how overwhelming emotion can be and how they can change anybody's journey overall. 
As Domonique's attorney days came to an end in 2018, she started her own company, 'Domonique Worship Coaching & Consulting', to help and support people who are struggling. Her inspiring story will allow the younger generation to keep pushing forward and always remember that the possibilities are endless.