Everything Everywhere All At Once: Paving the Way for "RepresentAsian"!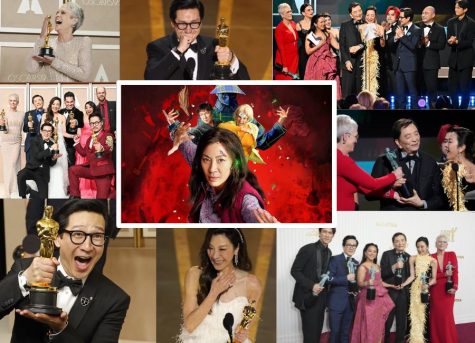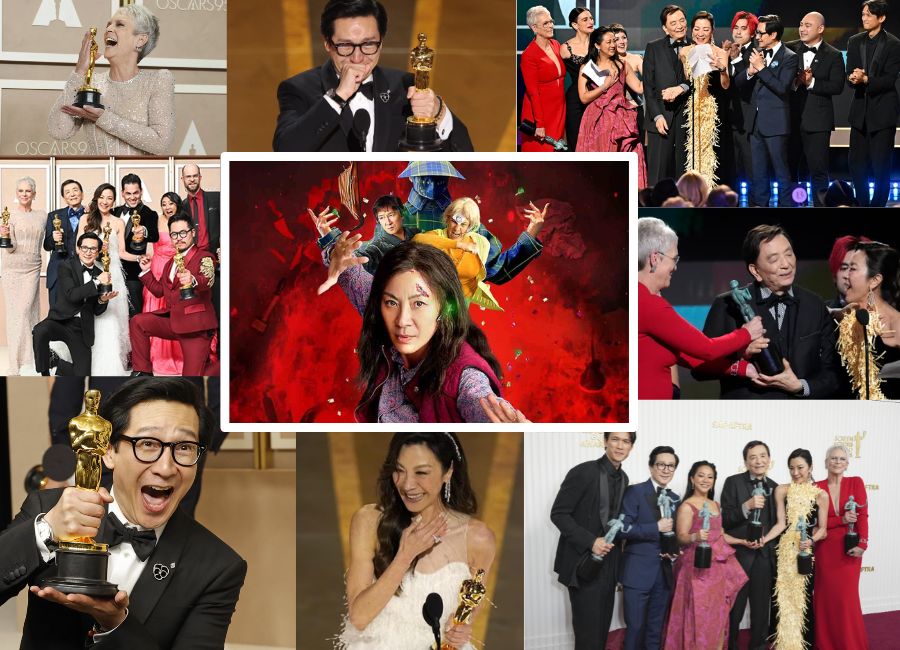 "The universe is so much bigger than you realize."
   If the world right in front of us is only a mere portion of all existence, what does that make of the millions of lives within it?
   Everything Everywhere All at Once serves as a beautiful reminder of the meaning of life: achieving balance and finding happiness in the little things. The film's duality introduces a complexity that initially earned backlash from critics, but highlights the absurdity of life itself– joy is fleeting, but suffering is transient.
   On March 12th, the entertainment industry saw history being made. Everything Everywhere All at Once dominated this year's Oscars, a perfect preface to this month's celebration of Asian American Pacific Islander (AAPI) Heritage. The movie and its production team won multiple trophies, and Michelle Yeoh and Ke Huy Quan brought home Best Leading and Supporting Roles, marking a win for Asian Americans for the first time in history. The "Oscar sweep", as their back-to-back wins have been called, brought utmost pride to the AAPI community, especially that of PPCHS. According to junior Orion Taleon, who honors his Filipino roots everyday, "It means a lot that we're getting the recognition that we finally deserve. They aren't merely nominations, but a recognition of our talent and skills."
   The film itself won Best Picture, recognized for perfectly encapsulating traditional Asian family dynamics and a melting pot of other genres, including homosexuality and intergenerational trauma. "Growing up, Asian representation in film always perpetuated stereotypes that only highlighted differences between me and my peers. Most Asian characters were only there to make fun of Asian culture, or at best, show them as exotic and different," explains senior and Co-President of Asian and Pacific Islander Association Trinity Tang. 
   As opposed to the occasional appearances of well-known AAPI actors in entertainment solely for the purpose of being labeled as 'diverse' (also referred to as 'having the token Asian character'), Everything Everywhere All at Once goes beyond any superficial level of representation. Ke Huy Quan, previously known as "Data" in The Goonies, and Michelle Yeoh, former Crazy Rich Asians actress, both made headlines with their debut films, yet mysteriously vanished from the film industry for years. Quan placed his acting dreams on hold due to the growing shortage of Asian roles in film, and Yeoh struggled with finding her place in Hollywood as a middle aged Asian woman. Everything Everywhere All at Once provided them with one of their seemingly last opportunities at a shot back into the industry, and it did just that, inspiring the Asian community around the globe. "Don't let anybody tell you you are ever past your prime," said Yeoh at the Oscars. 
   Yet, more than just the cast itself, people all over the world sympathized with such portrayal of Asian or immigrant families that Everything Everywhere All At Once depicted. Thus, the film's growing success became evident through recognition from the Academy Awards. Not only were representatives of the movie (or the movie itself) nominated for 11 awards, but the Everything Everywhere All at Once team also took home trophies for seven of these nominations: Best Picture, Actress in a Leading Role (Michelle Yeoh), Actor in a Supporting Role (Ke Huy Quan), Actress in a Supporting Role (Jamie Lee Curtis), Directing (Daniel Kwan and Daniel Scheinert), Original Screenplay, and Film Editing.
   Although the film's months-long domination of headlines had its run earlier this year, Everything Everywhere All at Once (EEAAO) leaves a legacy for all AAPI. As Trinity expresses, "Having EEAAO become such a revered phenomenon and getting so many Oscar nominations was a huge step in the right direction, in recognizing the talents of underrepresented demographics and setting a higher standard for diversity in Hollywood."
   As a whole, Everything Everywhere All at Once proved itself to be so much more than one of 2022's best Sci-Fi films. It was a sneak peek into the Asian American experience and intergenerational conflict, as well as a groundbreaking precedent setting the stage for more opportunities for aspiring Asian actors to come. The film wasn't just a superficial message about family and understanding– it was a real life opportunity about following your dreams. As Ke Huy Quan expressed in his acceptance speech, "My journey started on a boat. I spent a year in a refugee camp. And somehow I ended up here on Hollywood's biggest stage. They say stories like this only happen in the movies. I cannot believe it's happening to me. This – THIS – is the American dream…Dreams are something you have to believe in. I almost gave up on mine. To all of you out there, please keep your dreams alive."