DeSantis' Changes to Florida Education Continue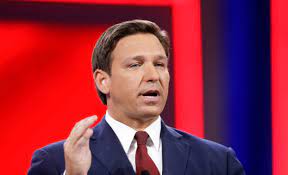 Recently, polarization and controversial moves among politicians have become more and more common. A resurgence of traditional values and conservatism have been slowly taking hold of the country. Florida is no stranger to this trend. Republican Governor Ron DeSantis has been one of the front runners of this new political movement. His platform includes penalizing mention of LGBTQ+ in schools and eliminating all "critical race theory" curriculums. In recent months, DeSantis's new legislation have become a topic of heated debate.
   For many students, DeSantis' legislation is an alarming phenomenon. Lady Zuriel Ayebah, treasurer of the Girl Power club, expressed her distress over the situation. "Personally, I'm very concerned about it… The LGBTQ+ community deserve to have rights and feel safe in whatever state they are living in and Ron Desantis being Governor puts the LGBTQ+ community in Florida at risk. I don't think it's right for him to be able to…put laws in place that puts the LGBTQ+ community in danger. There are many people in the community that don't live in safe supportive households, and they deserve to have their privacy without risk of their teacher telling their parents."
   The law Lady is referring to is the 'Don't Say Gay' bill. The bill forbids lessons on gender orientation and sexual identity in elementary schools. When this bill went into effect last year, student protests erupted in schools all over the state. However, this bill was only the beginning of many more increasingly bold legislative actions.
   In recent months, Ron DeSantis has been moving to cut funding to state universities, colleges and public highschools with classes on LGBTQ+ issues and 'critical race theory'. One of the classes most recently affected is A.P African American Studies. DeSantis has blocked the class from being offered to public highschool students due to claims that the curriculum was pushing a political idea and was 'woke indoctrination'. 
   Not only is DeSantis looking to shut down certain courses, but also close schools that do not comply with his conditions. One such college is New College of Florida, located in Sarasota. The liberal arts school is known for its emphasis on promoting diversity, inclusion, tolerance and acceptance of all its students. Founded in 1960, the school opened its doors to students of all races, a policy ahead of the school's time (Colleges of Distinction). These values directly contradict DeSantis' platform, leading to a forceful takeover of the school's board and administration. Now, many of the Governor's colleagues and political alliances are making changes in the school, alarming the school's student population, which has a large LGBTQ+ community. "I think it's terrible. Ron DeSantis is destroying education in Florida and he's acting like a tyrant. It makes me feel unsafe living here." Junior Ariana Lesmes said angrily. 
   As more of Ron DeSantis' plans for Florida develop, many are left wondering if they should stay in Florida or not. Regardless of political opinion, every Florida resident is waiting to see what the Governor will do next, not only affecting the future of the state, but also mirroring similar changes from coast to coast as the political and social landscape of the country moves into a new unknown era.