Putting the Champ in Champagne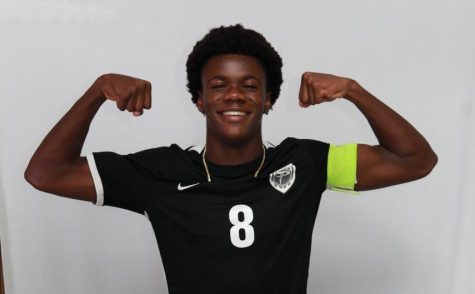 Defining a great athlete depends on factors such as their work ethic, dedication, and talent. The sports industry holds an unfortunate history of unfairly deciding greatness based on discrimination.  As one of the most prevalent leaders of the Pembroke Pines Charter varsity soccer team, Alex 'Champy' Champagne has stepped up for the school in a number of ways. In honor of Black History Month, The CHAT wants to show recognition and representation to some of Charter's high performing African-American athletes. 
  Champagne joined the squad in his sophomore year and made an immediate impact in his debut outing against local rival, St. Thomas Aquinas. In that game, he tallied an assist along with a respect from the team that was hard to come by at the time. This led to him becoming one of the team's captains during his junior and senior years, leading the team to three straight district championship trophies as well as being selected to the All County first team last year. He did all of this while maintaining well above a 4.0 GPA. 
  Alex has dealt with adversity because of his skin color for years, but this never halted his hard work or discipline in the sport. He expressed, "History has proven that being black and playing a sport comes with many challenges. Especially a sport like soccer that has historically lacked black athletes. However, the high excelling black athlete is able to overcome these challenges, focus on their goal, and work hard to improve. This is what I strive to do every day". When it comes to Black History Month, he reflects greatly on his journey so far and where he strives to be in the future. "As an African American athlete, Black History Month is a celebration of my past and a reminder that the color of my skin does not determine my ability to reach my fullest potential". 
  As the college world of soccer has started to open up to more black athletes, Champagne has racked up great amounts of interest from high level, Division 1 schools such as Temple University, USF, and William and Mary. The professional ranks of the sport have also taken notice of great African-American talent with guys such as Bukayo Saka and Marcus Rashford who Alex looks up to, making their names known in the best professional soccer league in the world, the English Premier League. 
   As Champagne's high school soccer journey comes to an end, he plans to move forward to study exercise science in college and ultimately play D1 college soccer. Regardless of where he lands, Alex will continue to proudly play and represent for himself as well as other African American athletes. Even when he's not sprinting down the pitch, it's safe to say that his run for equality will never end.