"The key to our success": PPCHS Robotics in the top 1% of the world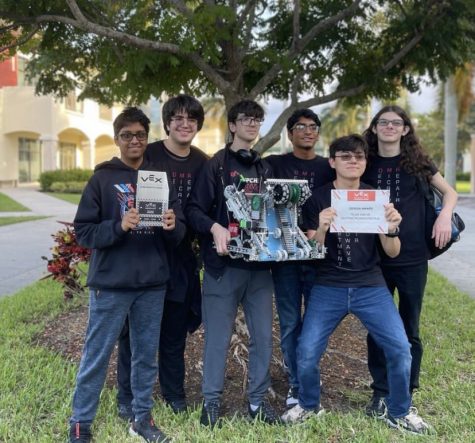 Whether it was winning awards or participating in several competitions in and out of state, the PPCHS Robotics Team has always been very successful and talented at what they do. The team always has a challenge on their hands and are constantly problem solving. Going on seven years, the hard work of Charter's 2022-2023 team has paid off immensely, to now being in the top one percent in the world. 
   All great achievements have to start somewhere, even at the bottom. Robotics team sponsor, Ms. Estevez, describes the past years and how, "[They] didn't have enough robot kits or field for the first few years." Being able to grow and develop as a team was not easy and required lots of hard work. Showing up to the robotics lab almost every day for countless hours, acquiring the proper tools needed to build, or making constant changes and adjustments was, "the key to [their] success has been having funding and putting in a lot of time daily after school", says Estevez.
   When being in the top 1% of the world the robotics team has set the bar high. Members being admired for their great skill and what they have to to bring to the team can be an amazing yet overwhelming feeling. "Winning such a big title required a lot of preparation beforehand, but also a lot of coordination with our team as well. Of course, it was great seeing our hard work pay off, but working together without being afraid to take on other roles was definitely the best way to tackle the competition."
   Even after this great achievement the robotics team is not finished yet. They plan to include more middle school teams and members from AVM next year. With a streak of going to states multiple years in a row, the team hopes to take it to the next level. Although last year's 10th grade team (The Department of Microwave Repair) competed at the World Championship in Dallas, the goal is to have more members participate within the world championships. Mrs. Estevez believes that "this would be a huge accomplishment since [they] would be up against thousands of amazing teams." 
   In hopes of winning more awards and maintaining their 1% status, the robotics team will keep working at what they want and will persevere together. With the help and influence of their sponsor and the brilliant minds of other members, there is no doubt that our PPCHS robotics team will continue to work their hardest and succeed while doing so.