Say Bonjour to Emily in Paris Season 3!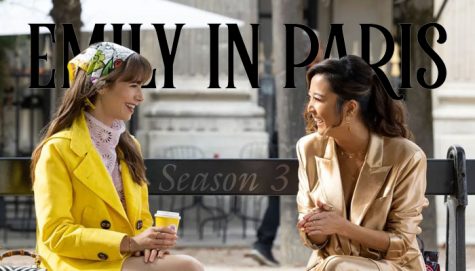 Netflix has just released season three of Emily in Paris, a storyline based on a young American woman moving to Paris in place of her boss. Emily's previous life was all planned out: she was a normal girl living in Chicago and was even nearing a big promotion that she had always dreamed of. Suddenly, however, she is called up to go work in a Paris firm for a full year. 
   As a modern, relatable show, it follows Emily through her new life as she gets accustomed to the culture, lifestyle, and her journey connecting through the Instagram world. Emily faces normal challenges, like finding a forbidden love, the ups and downs of working in marketing, and adapting to a new way of life in a foreign country.    
   The season starts off with Emily in a new relationship with her British boyfriend Alfie, although she was previously in love with her ever-present neighbor Gabriel. Faced with a tough decision that will drastically turn her career upside down, her main conflict is deciding between her new boss or her old one, ultimately testing her connection and the relationships she values. 
   With a job in marketing and a type-A personality, she has always had her life goals planned out. But with unexpected twists and turns in her life, even after the novelty of Paris wears off, she chooses to divert from her original intentions. 
  In the first few episodes, Emily decides to work both jobs but doesn't tell either of her bosses, neither Madelin, her mentor, nor Sylvie, her new French boss. As she goes back and forth, she slowly tears up her relationship with Alfie and loses herself in the process. This obviously causes problems, but I personally think Emily's decisions in the beginning were very poor. She wasn't thinking about herself and her closest relationships, but rather putting work first and overworking herself.
   Emily also let an old love back into her life, Gabriel. I have always liked him with Emily but at this point in the plot, it got overbearing — season three was just a repeat of how the couple couldn't be together, especially so as to not betray Cami (one of Emily's first friends in Paris and Gabriel's current girlfriend). Cami and Emily made a pact with each other to not be with Gabriel, but from the beginning, it was clearly a plan of sabotage from Cami to get Emily to back off. This particular situation within the plot of the series has caused me to dislike not only Cami, but also her friendship with Emily. 
   After the affair between Emily and Gabriel, Cami's reveal of her ongoing relationship with Gabriel showed that her motive was to punish Emily for her actions. "This season really shows that Emily and Gabriel are made for each other because they are both unloyal," sophomore Sofia Romero says. 
   After a while of being with Gabriel, Cami seems to find a new love interest: Sofia (an artist). This pushes at a huge realization for the character, and at this point of the show, I actually enjoyed the direction it was going! Both girls were growing individually, especially as Alfie and Emily's relationship strengthened. "The big plot twist at the end was actually shocking, but the best part was the buildup to the big ending. Learning Cami was bisexual and leaving Gabriel at the very end. She did annoy me a lot but I am happy she didn't make a big mistake," Sofia explains. Freshman Anastassia Anzola mirrors this opinion: "I think [season 3 is] really good because it's starting to show [Emily's] relationship more with Alfie," while "also having drama and [showing] the connection that she still has for Gabriel,"  she expresses.
   I give Emily in Paris season three a good 3.5 stars out of five. It started off with the unsettling cliffhanger from the previous season that leads to Emily failing to make the "Big Decision". By choosing to handle two jobs with both sinking, then proceeding to attempt to to fix everything herself, she caused a lot of tension with all of her relationships. A turning point in the story was when Alfie and Emily broke off; it gave me a realization that Emily and Gabriel were sort of being forced into a relationship. Some people love the type of storylines that end up with the starting couple but this time it just didn't feel like it. The better choice was Alfie! Nevertheless, the ending was another nail-biting ending.