M3GAN Takes a Spot Next to Chucky and Annabelle on the Toy Shelf and at the Box Office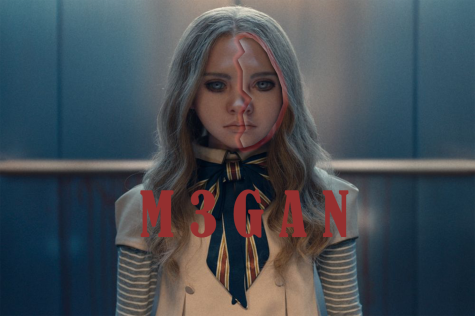 Dolls and robots are no strangers to the horror genre, with the box office's latest release, M3GAN, bringing the two notorious villain types together since its debut, January 6th. Counting up to a watchable length of 1 hour and 47 minutes, it's an entertaining kick off to the new year to say the least. 
     M3GAN features some new and some familiar faces in the Hollywood scene, including stars Allison Williams and Violet McGraw, who take on the roles of Gemma and Cady. The contrasting silicone skin and child-like persona of the titular character are a product of a high-tech puppet and the acting of Amie Donald and Jenna Davis.
   Presenting the world we live in as a technology reliant and addicted society, M3GAN follows the story of Cady, a grieving child who craves for more entertainment than her engineer aunt and recently made guardian can provide her with– which then gives rise to "M3GAN" an artificially intelligent doll who establishes a synthetic, yet nearly human connection with its "primary user." As expected when anything is granted a mind of its own, events take a turn and quickly go wrong. 
   Although she hasn't made her way to the movie theater to see it just yet, PPCHS junior Natalia Klatt is "expecting the movie to be similar to movies like Annabelle and Child's Play since they're both in the killer doll genre," but despite its place in the horror genre, the film didn't overwhelm with jumpscares, focusing on the storyline rather than expected attempts at causing a flinch or two within audiences. Although this can allow it to be a film for every member of the family to view, there is occasional gore and disturbing content that may not be settling for just anyone. 
   Sharing the top spot at the box office with Avatar: The Way of Water, M3GAN's success is evident and continual. The film exceeded its own financial expectations, earning above $90 million just over a week after it haunted its way through theaters (Read More Here). Not only has the movie been a hot topic in the film industry, the dancing clip of the doll was quick to flood social media, being the source of countless memes, inevitably luring viewers in. Junior, and fanatic of all things scary, Janessa Montilla "couldn't take it seriously" when she initially saw the trailer, wide-eyed with shock and laughter. "I thought it was a joke when they first played the commercial on TV. I really love horror movies, so I hope that it's scarier than I think it is."
   One way or another, M3GAN has made its chilling mark on the world, leaving audiences pondering the world's AI development and the blending differences between genuine and fabricated emotions. The film is currently in theaters and is rumored to make its way to the streaming service Peacock later this year.