Rumour Has It, Adele is Hitting the Books!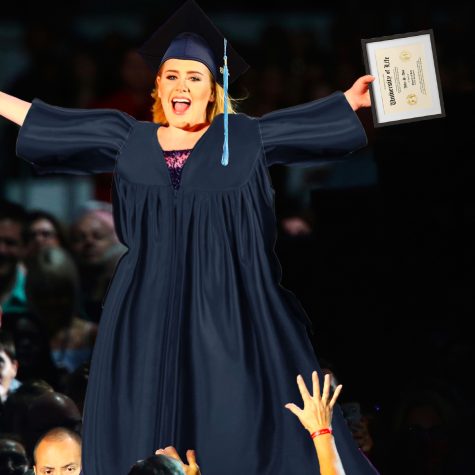 Success.
   The term could be measured in numerous ways, from academic achievements and athletic skills to even the amount of money you make. As mere highschoolers, we try to find a healthy balance between all of these factors, rather than relying on the progress of one passion for all our satisfaction. When it comes to celebrities, however, we find that the scenario isn't as different as we think.
   Fame can be a measure of success in the world of celebrities, but for a number of them, it still isn't everything they've ever dreamed of. Beloved singer and songwriter Adele showcased her pride in this idea when she announced that she would take a break from music to get her college degree this past October (Today News). The news comes as a shock to many as the star has remained a fan-favorite for years on end, but it also highly resonates with performers of all sorts. Lots of Pines Charter's very own artists even had their own feelings to share on Adele's decision!
"I actually think that it's really cool that Adele is taking time to focus on her education. I think as a performer knowing that you are capable of putting in the effort to achieve something other than what you're 'known' for is a really big moment for oneself. Even if you don't really do anything with it in a professional sense, just having it, knowing that you put in the hard work to get a college degree can really help show to oneself and even others that you are a well-rounded, multi-faceted individual who is more than just their image." –Riley Bauer (Senior, Chorus Club Co-President)
"I think [Adele's decision]  is one of the most respectable things a singer and artist can do. I feel Adele prioritizing education is an extremely empowering thing for other artists; she inspires them to not only be successful in their talents but also in their intelligence… She is setting an amazing example for young artists and performers everywhere by showing you don't need an education to be successful but having one can be extremely rewarding and important. Overall, I aspire to have the same determination and courage as she does in all of her endeavors." –Katie Cusack (Junior, Chorus Club Co-President)
"Even though she's Adele and is an icon and set for life, our generation has watched more people fall from grace than likely any other generation ever. As kids living in the age of technology and knowledge we know just how important a backup plan is. She mentioned how if music didn't work out she'd be a teacher and I think that's beautiful… It's a good lesson to learn if you haven't already, that you're not owed or bound to reach success on the first try." –Liana Samuel (Junior, Chorus Club Harmonies Director)
"I personally think that Adele taking a break from music to pursue her degree is absolutely amazing. I'm happy that she wants to go back to school because even though she's an amazing singer with amazing status, she's opening more opportunities for herself, which is just phenomenal." –Andre Arana (Sophomore, Theatre 1)
"I think that her decision was perfectly fine, balancing college or highschool (in our case) while having the reputation she has would be a very difficult task… If she wants to become an English [literature] major then it would be perfectly fine for her; after all, life is about fulfilling one's own dreams and being content, as long as it doesnt come at the expense of others." –David Munoz (Sophomore, Drama 2)
"Adele taking a break is a choice that makes sense. She has been a singer for so many years now that it likely would be relieving for her to temporarily step back from singing… When I perform in Band for either a concert or for marching band, it usually ends up with me feeling physically drained the day after… I could not imagine what it must be like to sing for so many years, with all those performances and pressure and stress on just yourself and your voice. She is a strong person for being able to do all of this for so long. Adele taking a break from performing is a choice I respect and find logical." –Benjamin Nguyen (Sophomore, Marching Band)