New Season, New Beginnings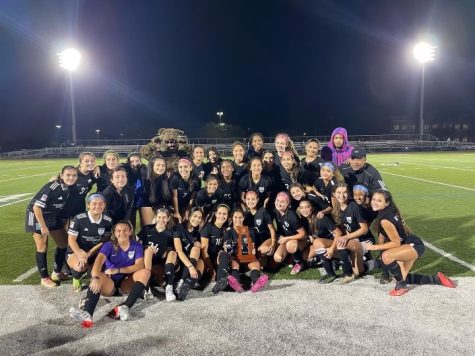 The 2021-2022 season was definitely one for the books for the Pembroke Pines Charter Girls Soccer team. All the way from an undefeated regular season to beating rival Archbishop Mcarthy twice at home and knocking them out of the race. After a lengthy undefeated streak Pines Charter Girls Soccer were knocked out of their state championship dream by Naples High School in the state semi-final leaving the team and fans distraught. However, with a new season coming up ahead the girls varsity soccer team commenced with hope to reawaken their name.  
  With a new set of underclassmen this season to help and support the team for a good season once again, the road to states is everyone's objective. Freshman Madison Cassanova was the star goalkeeper last year as a 8th grader and has made a drastic change to the team with only coinciding one goal throughout the whole regular season. Madison will continue to be a weapon in the back as she says, "We have a lot of new freshmen with great talents and we have a couple of new additions from other schools, so I think this season is going to be great".
   As good as the season was last year, this year will be another tough season to compete. Going up against tough competition such as Cardinal Gibbons, Archbishop Mccarthy, Cypress Bay, and St. Thomas Aquinas. The girls need to put up a good fight in order to keep another good record this year. The team will commence their season with a pre-season friendly against Somerset to reignite their fire once again. Although we lost a couple of strong players, this season the seniors will hold a heavy impact with 7 of our starters being them. Senior Cariana Pou says, "I feel like we should be pretty good but I'm not sure what to expect and I hope for the best".
  The girls have a long season ahead of them and their official season starts in one week against Taravella at home. With the girls strong perseverance, dedication and hardwork they look forward to redeeming themselves and gaining what they deserve, being state champions.