Jaguars vs. Bobcats: Redemption Looms Near
  After August's gut-wrenching cancellation against the Northeastern Hurricanes, students are particularly thrilled for Thursday's football game. However, instead of pulling up with extravagant beach floaties, bright-colored snorkel sets, and pool noodles, students will enter our stadium in a dark, menacing mob, eager to see the football team win against West Broward. Tomorrow's theme is Blackout, West Broward's is up to question, and the final score, of course, depends on which team wants the win more. Here's what Charter thinks:
"I have faith in our football team because they have been doing really good this season, and so I feel like we might actually win this game; I feel like they are going to wear bright colors or neon to go against our black." -Coralie Richardson (junior)
"[with a sigh] I don't think we are going to win—West Broward has beaten us a lot in the past, so I'm kind of scared of that, but I want to win; they'll probably wear Whiteout." -Molly Touhy (sophomore; cheerleader)
"It's going to be a dog fight, but I got us coming out on top because, as a team, we've been putting in the work the whole year, and we want to get our comeback since they beat us last year." -Christopher Dorsett (junior; linebacker)
"As a PPCHS Alum, teacher, and, now, the Athletic Trainer, I am a huge Jaguar Sports fan. I'm excited to say that I think this season's team is the best one in a long time, if not ever! We are fully capable of securing a W tomorrow against West Broward! Might be a dog fight, but we are the superior team for sure. Go Jags!" –Ms. Alongi (Athletic Trainer)
"Obviously, Pines Charter is going to come out tomorrow night and take that dub against West Broward. Score prediction: 28-7. Why? Because we're the Jags, that's why." -Ryan Romero (junior)
"Definitely Charter, because we're Charter. We have home field advantage, we're having a great season; I'm going for us!" -Principal Bayer
"You know, I think Pines Charter is going to win because West Broward [isn't good]. We are pretty fire; Pines Charter on top!" -Austin Garcia (freshman)
   Whoever you are—linebacker or cheerleader, freshman or junior, the only way to really test your prediction is by showing up tomorrow. And, as always, be sure to return to The C.H.A.T. afterwards to hear about the full game. See you there, 9.22.2022.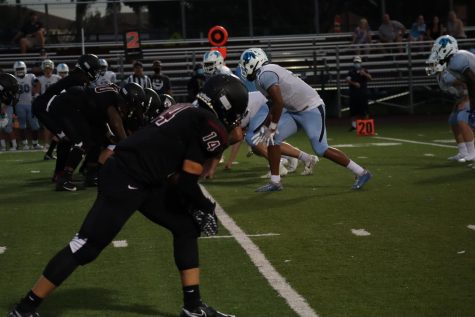 Sorry, there was an error loading this poll.