Leading the Pack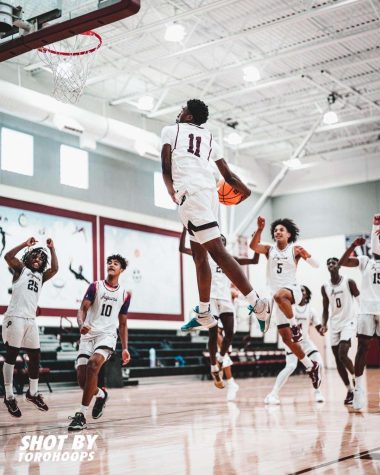 With American University on a 7-game win streak, St. John's University at 10-1, and Queen's University standing at 8-2, our Charter alumni in Geoff Sprouse, Kolby King, and Elijah Wyche have been making their mark after their legendary 3-year run, leading Charter to multiple trips to state championships. The departure of major pieces left the future of Charter basketball in question, especially with only three players returning.
   Of those three, one senior remains: Ralph Laurent. He was put under the wings of numerous alumni, having been on the team for all four of his high school years. As the Jaguars take on this rebuilding year, Ralph takes on the leader role and the responsibilities that come with it. 
   As exciting as it may seem to be the leader, it comes with a lot of responsibility that isn't seen by the public. Ralph was able to honestly admit to the newfound pressure from the complete change in players. "It's tough, it's really tough," he said, "Especially getting everybody ready to play on a high level in a very short amount of time at school that is known to produce excellence." There is already no question that these new players are of a high caliber, yet a valid prediction for how the season would go was still up in the air. 
   Although the pressure intimidated Ralph, especially due to the outcome being questionable, it was this that also excited him for the future. As the team learns each other's playstyles and adapts, Ralph stays optimistic for the future. "They are all high-level players," he stated, "I think that after Christmas Break, you'll see a completely different, tuned in team." He and the Jaguars went on to speak this into existence, coming back from break with a 12-point win over Cypress Bay, which has consistently been home to one of the best basketball programs in Broward. 
   At 9-7, the Jags have come out of the winter break putting themselves well over .500, with team chemistry getting better everyday. Ralph's apprentice, Junior Josh Harris, has been doing his thing all season, averaging 19 points per game. He credited his captain where it was due, stating how he "hypes up the entire team and is definitely the bounciest." It is safe to say that after this season, the future of Jaguar basketball is in safe hands, especially with other underclassmen like Adrian Shackleton, Junior, and Jeremy Elyzee, Junior, both averaging 14 points per game.
   As the postseason inches closer, Ralph looks to captain the Jags for a fourth straight trip to district championships, and maybe even states, proving that the rebuild might turn into a rerun sooner than we think.